Years ago, when I was a university student, I wrote a non-fiction piece about a building in Philadelphia which has always amazed me.
I don't have the essay anymore, I think it's in a file stowed away back home, but I found some of the bits I was working with when I first started the essay in an old e-mail. Here it is:
Divine Lorraine is crumbling. The once majestic hallways have sunken, fallen victim to rotten floorboards and mildewed walls. Stairways seep in, broken windows let in weather and pigeons-- rustling, roosting, brooding.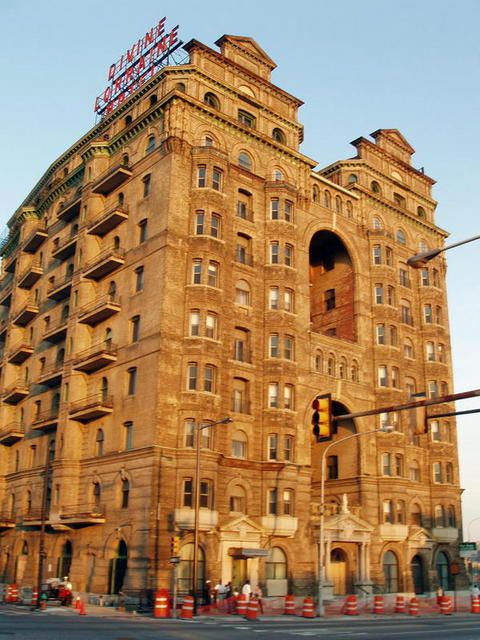 image source
A pale, sick light, the kind associated with hungover November mornings, enters through an accidental skylight, opaquely illuminating the lobby's tiled floors, still regal though covered with the detritus of leaves, newspapers, and time.
Despite its rough treatment recently, Divine Lorraine stands tall. Passing by Divine Lorraine is the highlight of my journey up North Broad street, every time.
I enjoy catching that first glimpse of the words in red neon lettering: "Divine Lorraine Hotel," strung together like wire atop the building. Father Divine put the sign up when he bought the building in 1948. Seemingly out of place with the rest of the architecture, the sign is a verbal anachronism, a quirky afterthought.
Father Divine's hotel was open to anyone: men, women, poor, rich, black, white, so long as they followed his rules of modesty and chastity while at the hotel.
13th street offers a view of the back of the hotel, beyond the empty lots riddled with weeds and garbage, a grimy giant amongst low income housing. Divine Lorraine is a living testament to the memory of North Philly's grander days.
Divine Lorraine is ten stories high and was built on four acres of land at the intersection at Broad, Ridge and Fairmount streets. It was designed in 1892 by Willis G. Hale and originally called the Lorraine Apartments, luxury homes for Philadelphia's newly made, nouveau riche industrialists. This was the time when Rittenhouse Square was becoming passé and North Philadelphia was the place to be. It is the exact opposite today.
I love this building so much. It's historical and totally crazy, with its beautiful architecture and interior design, and the huge murals inside of Abraham Lincoln, Father Divine's personal hero. I heard they're trying to convert Divine Lorraine into condominiums. I'd like to see them do that without ruining the integrity of the building.
Great photos of the Divine Lorraine's interior and exterior here.