Last night I was watching
Celebrity Ghost Stories
, a show in which C-list celebs recount their experiences with the paranormal. Some of the stories are actually pretty interesting, sometimes even scary, but every once in a while someone's story is just plain hokey.
For example, I had to stop myself from yelling at the screen during Belinda Carlisle's narration. She was describing an encounter she had with a ghost while staying in a hotel in London in the 1970s. She said that she was laying in bed when a misty figure appeared and held her down to the bed. She said it was holding her throat so she couldn't scream, and she could see the room around her and her friend sleeping in the next bed. She insists that she was not asleep and insists she was visited by a spirit.
Well, Belinda, I have two words for you: SLEEP PARALYSIS.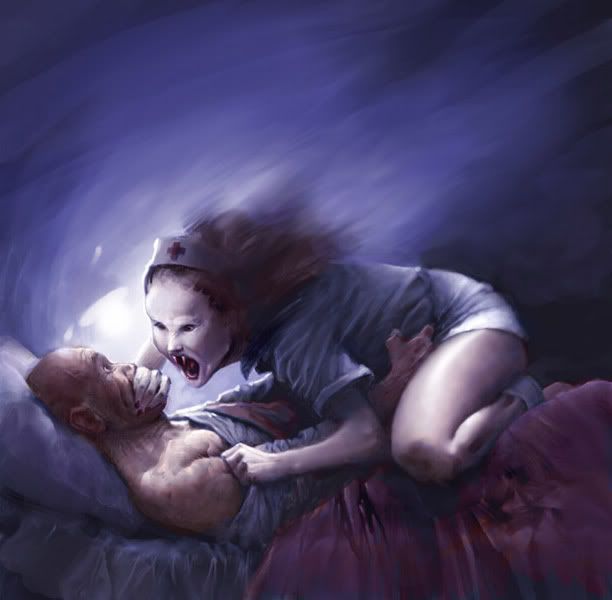 photo credit
Taken from the
Stanford University website
:
What is sleep paralysis? Sleep paralysis consists of a period of inability to perform voluntary movements either at sleep onset (called hypnogogic or predormital form) or upon awakening (called hypnopompic or postdormtal form). Sleep paralysis may also be referred to as isolated sleep paralysis, familial sleep paralysis, hynogogic or hypnopompic paralysis, predormital or postdormital paralysis.

What are the symptoms? A complaint of inability to move the trunk or limbs at sleep onset or upon awakening, presence of brief episodes of partial or complete skeletal muscle paralysis, episodes can be associated with hypnagogic hallucinations or dream-like mentation (act or use of the brain)... In some cases, when hypnogogic hallucinations are present, people feel that someone is in the room with them, some experience the feeling that someone or something is sitting on their chest and they feel impending death and suffocation. That has been called the "Hag Phenomena" and has been happening to people over the centuries. These things cause people much anxiety and terror, but there is no physical harm.
That was definitely not a ghost holding you down in bed. It was a hallucination, and I'll tell you how I know. I used to have the same thing happen to me, except it wasn't an isolated incident-- it would happen rather regularly. Night after night I would feel as if something was sitting on my chest and keeping me from breathing. Sometimes I would see a scary-looking woman in white in my room, other times I could feel bony hands on my head. And every time, no matter how hard I tried to break free or yell at the apparition to leave, I found myself paralyzed (in fear?) for what felt like an eternity, until it was over. It would end as quickly as it started, and I would sit up in bed trying to process what happened.
One of my scariest experiences happened when I was living in England. It was early morning and I could see the sun filtering in through my shaded window. Suddenly, a little girl appeared in the corner of my room. She was wearing a white dress and had a gauzy veil covering her face. She ran over to me and sat on my chest. She stared intensely into my eyes, then proceeded to pull out a stapler and started stapling my lips together. All the while, I was doing my best to wriggle out from underneath her and struggling to open my mouth so I could scream her to leave, but I was powerless.
After these experiences I would always feel very confused. What just happened? Am I seeing ghosts, or something else? Why are they following me? I was very frightened by the whole situation and did not know what to do about it. The worst thing is that I thought something was wrong with me for the longest time. Was I haunted, cursed, or maybe even crazy? Or maybe I had a special power? Whatever the case, I was hopelessly perplexed.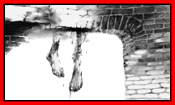 I wasn't sure if I should tell anyone about it, but I ending up telling Will, one of my best friends. He knew immediately what was happening to me and told me not to worry. "It's sleep paralysis," he said. "It's quite common, and it's usually brought about due of stress."
I immediately did some research on this condition, that I finally had a name for, and I started to feel better about it. I wasn't the only person to have this happen, and I certainly was not going crazy. The condition is so commonplace, and has been around for ages, that it even has a snappy nickname: "Old Hag Syndrome." Perhaps you've heard of it?
I can't tell you how relieving it was to find out that I wasn't the only one. I was just suffering from some anxiety and it was coming out in strange ways through my subconscious. So why was I yelling at the television screen last night? I was annoyed that Belinda Carlisle was packaging her experience as something that it wasn't, and no one thought to tell her differently.
If Old Hag Syndrome is so common, why didn't one of the
Celebrity Ghost Stories
producers point it out to the singer? Why delude the woman any further? I think I was also pissed off because here's some woman getting paid to tell a story, which isn't entirely accurate, when I suffered from this known medical condition for years. It's not right.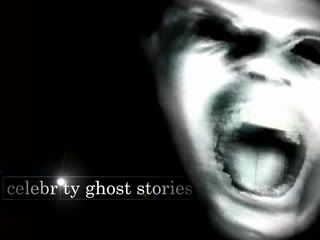 Another episode of this show brought me to tears, the story was so sad. Donna D'Errico told a tale about growing up as a lonely little girl without any friends, until she met another little girl by the river. They became best friends and would play together every day, but no one else could see her.
I had three invisible friends when I was little-- Anya, Tanya and Bib, who happened to be a baby. I would create backgrounds for these characters and make up stories about their lives and include myself in the stories. In that way, they weren't friends as much as they were a way to let my imagination and creativity run wild. I felt sorry for the young Donna D'Errico because all she wanted was someone to play with.