Have you ever had an idea in your mind that won't keep quiet?
It just keeps buzzing around in there, distracting you from whatever else you're doing, until you can figure out why this thought won't leave you alone. This happened to me last night while Ben and I watched an episode of
Anthony Bourdain: Where It All Began
and it bugged me.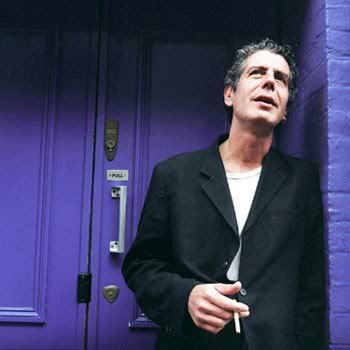 A thought popped into my mind about a story-- except I couldn't determine if the story was a product of my imagination or the imagination of someone else. I wasn't sure if I was trying to piece back together a dream of mine I couldn't quite remember, or a freaky book I read a while ago.
Tell me if this sounds familiar:
There is a society of women living in an old (new England style?) house painted white with a large yard. The women of this society dress in long gowns that I think sometimes cover their face.
The society abhors men, but the leader of the group has a baby and it's a boy. The boy is kept out of things and often alone in his room. All the while there is a hole being dug outside.
There is a dog in the house and the boy befriends the dog, and later has a strange sexual (romantic?) encounter with the dog. The whole thing ends in a riot, someone gets buried alive, and the boy finds his father, also buried in a hole.
Image via Wikipedia
Does this sound at all familiar to anyone?
During a commercial break I explained what I was trying to figure out to a friend and he seemed perplexed.
Well, it is a weird story. I'm beginning to think this
did
not
come from my twisted imagination.
I know I have some pretty ridiculous ideas sometimes, but I generally don't dream about beastiality.
This was definitely a creepy short story that I probably read for a class while still in school.
What bothers me is trying to figure out "Why am I remembering this?" It also annoys me that I cannot think of what this book might be. I guess it's not a big deal, but it's picayunes like these that can get my panties in a bunch.
Has this ever happened to you? Do dreams and reality ever meld together for you?