Today I will address a stranger for my
30 Tweets to 30 Peeps
challenge.
Why am I addressing a stranger, you ask? Well, I'm doing it because that's what it says on the list. Normally I don't talk to strangers, unless they drop something on the street and I pick it up and give it back to them, so today's challenge is a bit strange for me. Should I write an open letter to all strangers, or perhaps a particular kind of stranger, such as people on the bus? Hmmm...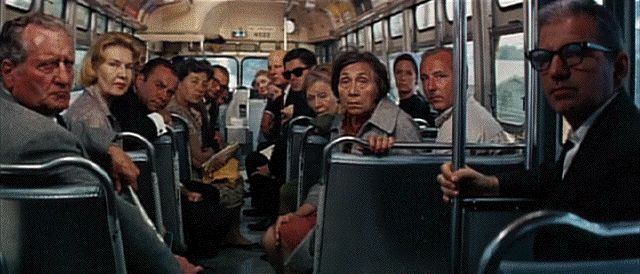 photo credit
I think I will address the latter, just because I often find myself riding public transportation in San Francisco and it can be quite the hell-raising experience. One time I swore I was going to have an anxiety attack because the bus was so hot and cramped and I could feel people breathing all around me, and the bus had this lingering funk in the air. Stifling madness.
Another time I had the pleasure of sitting in the back of the bus across the aisle from an insane man holding a boombox on his shoulder and listening to the radio at maximum volume on an out of tune station, so it was essentially just playing static. LOUD static. There were other people on the bus, but no one seemed to notice or care, which completely dumbfounded me. Why the bus driver was being so blahzay (I know I didn't spell that correctly, it's a French word and I took Spanish in school, so I'm just going to spell it like the hip-hop group did) about the situation was odd to me, too, but I guess there are so many wackos here that people here have learned how to ignore them. It's sad, in a way.
So here's my message to all of the strange strangers on the bus:
@FellowBusPassengers Hi. I'm the person next to you on the bus. Give me my space, I'll give you yours. I don't really wanna chat, and please don't stab me. Thnx.
For those of you who don't know,
last year a dude in the Bay Area stabbed two people
while riding on public transit. These people, including an 11 year old child, who were assaulted were just minding their own business and did not provoke the man. How creepy is that? You're riding the bus home from work, reading a book, and suddenly someone runs up and stabs you with a knife. Horrible.
On a lighter note, I decided to make a drawing based on something my boyfriend told me. I don't know if it's true, but he said that makeup manufacturers use bat guano as an ingredient in mascara. Gross, right? I love bats and as cute as they are, I do not want their doo-doo on my eyelashes. Good thing I hardly ever wear makeup.