Image by Clintus McGintus via Flickr
I got an assignment the other day from Mei at
Diary of a Fair Weather Diver
and also
Sara Swears A Lot
and woke up early this morning to complete it.
The task was to create a video documenting seven things about myself that I wished to share. I was stumped at first, but as I was laying in bed last night I counted and realized that I do have seven things to discuss: my tattoos.
So I don't know what programs other (normal) people use to record their vlogs, but I use the free application that came with my computer, Photo Booth. It's fine, except it sucks. For some reason, the videos kept cutting out in the middle, or Photo Booth would only save 90 seconds of the six minute long video that I thought was recording.
[By the way, if you have any advice for making better vlogs on Mac, or a program you'd recommend, please let me know!!!] After several attempts I gave up and did an on-speed version. Enjoy.
Now, you people out there! I want YOU to make a vlog about seven things for this seven things meme. It doesn't matter what the seven things are, so long as there are seven of them. Post a vlog, link me up, and pass the assignment along to seven other unwitting victims. GO!
Here are my seven lucky winners...
-
Freckle on the Nose of Life's Complexion
-
icantbelievable
-
Without Obsession Life is Nothing
-
Trailer Gypsy
-
Beyond Passing Time
-
the tiny tincan
-
I am your blog
If you don't have a webcam, or if you don't feel like videotaping yourself (I know, we can't all be so narcissistic), then feel free to do whatever you'd like. The vlog option is fun, but I can understand why some people wouldn't be so into it.
Anyway, if you do complete the task (and I didn't choose your name and you still want to do it, go for it!) give me a holler in my comment box! I can't wait to see what you all come up with!!!
If you're curious, here's one of the other videos I made (in which I get cut off by Photo Booth). Fun!
In other news, I started a new t-shirt reconstruction project. It's a yellow tee which reads "South Philly for Obama." So far, I've cut the sleeves, make a corset in the back, and bleach-stained and shredded (with a steak knife) the shirt for a punkier effect. I'm thinking of picking up some fabric dye and changing the color of the shirt (it's EXTREMELY yellow), perhaps a gray or darker color... Here's what I have done so far: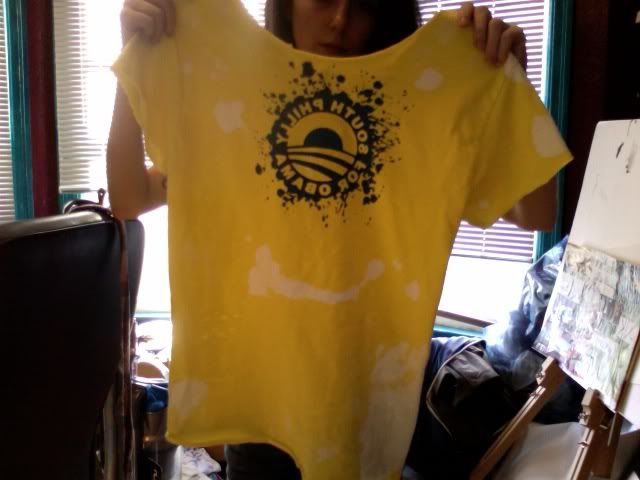 I'd appreciate your feedback!