Happy Halloween, everyone! I hope you are all enjoying the weekend's festivities and relishing in the spoils of your trick-or-treating. I've had a pretty good weekend, even though I wasn't feeling very well for most of it. It all started off on Friday night. Ben and I got dressed in our "secondary" costumes (he was a Big Nose and I was Pippi Longstocking, a costume I was able to throw together using my own clothes) and went to a DYL at a bar on Polk street.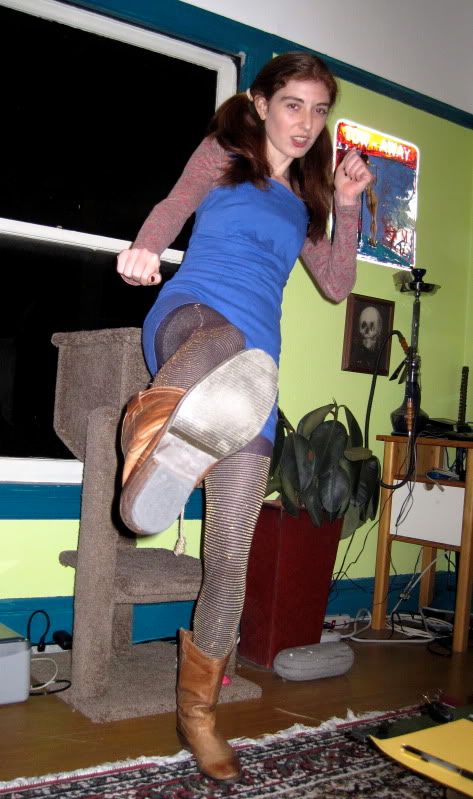 Me as Pippi Longstocking-- I've been looking for an excuse to wear this crazy little blue romper for the longest time, so I'm glad I got to put it on for Halloween.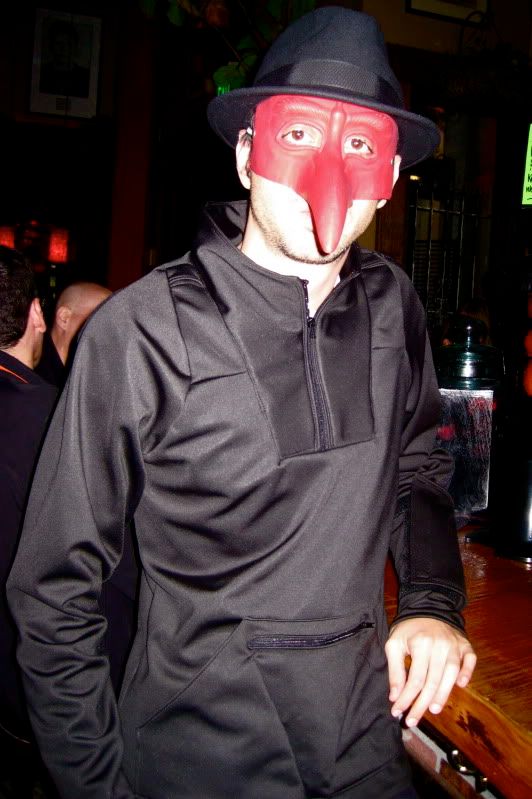 Ben as a Big Nose.
I got picked up by Little Red Riding Hood! Bernadette is strong!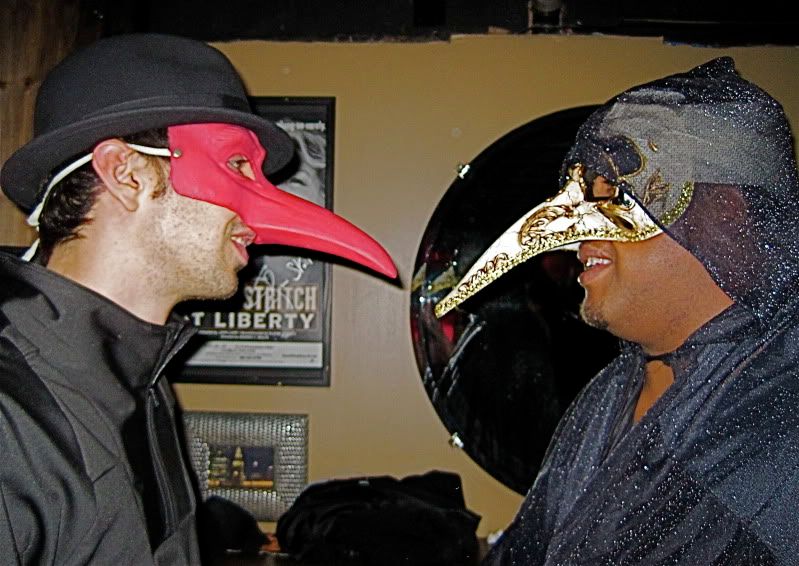 Ben and Christopher, the founding fathers of the Big Nose Club. Just kidding, but it's funny that they both were wearing similar masks. We didn't plan this.
After the DYL we headed over to a house party in Nob Hill where I took advantage of the booze table and danced my boots off. I also got into a fake argument with a dude who was dressed as Rivers Cuomo of Weezer. I told him his first two albums were the only decent albums he's made, that the music he's been putting out recently has been garbage, and that he should stick to writing songs about Japanese girls. I think another party-goer thought that I was actually yelling at the Rivers-impersonator, but it was all in good fun. I had a lot of fun at the house party, perhaps too much fun, but made sure even in my hazy state to hand out as many zines as I could. This girl came prepared with a whole ziplock full to give to friends.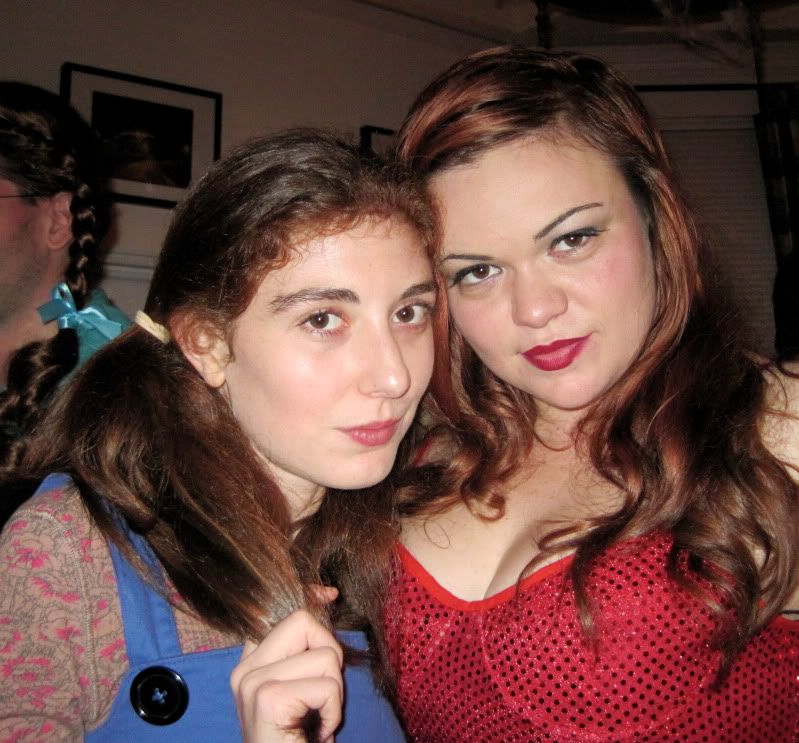 Posing with Rebekah, dressed as Jessica Rabbit. Yowzah!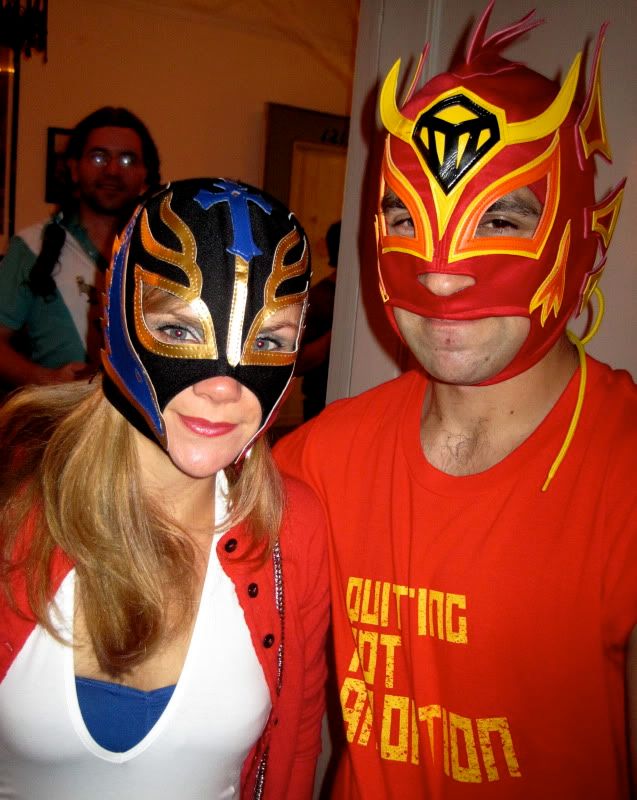 Rebekah's sister and brother-in-law as Luchadores.
I drank a little bit too much on Friday night (I had, I think, four drinks over the span of four hours) and was not feeling very well when I woke up on Saturday morning. This sick feeling lasted all day into the evening when I puked my guts out while getting ready to go out to Evy's birthday party. I wasn't expecting to still be that sick, but I guess I really should know better by now. Alcohol is not my friend, it's more like a frienemy. Sure, it's really nice to me at first, enticing me with pleasantries and promises of a fun-filled evening, but it always lets me down and kicks me in the liver in the end. Despite feeling absolutely miserable, I got dressed and put on my face paint for my second Halloween costume. I was determined to at least make an appearance at the party, and do so with some spirit.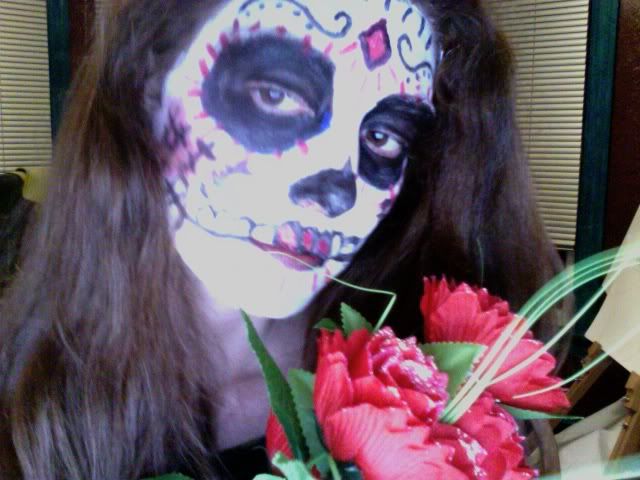 My Dia de los Muertos look. I started off with putting nearly half a tube of clown white face makeup on for the base. The face paint was really annoying to apply and didn't come on smoothly. Ben helped me a lot with getting my nose and forehead painted, and I free-handed the rest.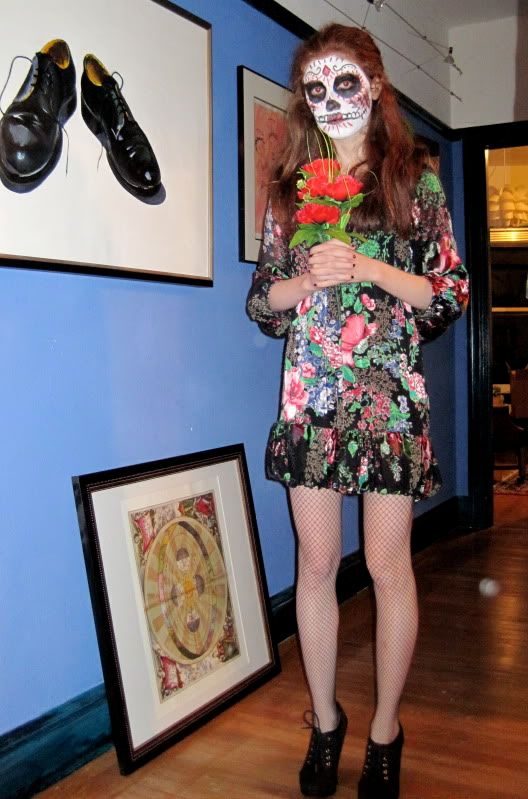 The complete costume.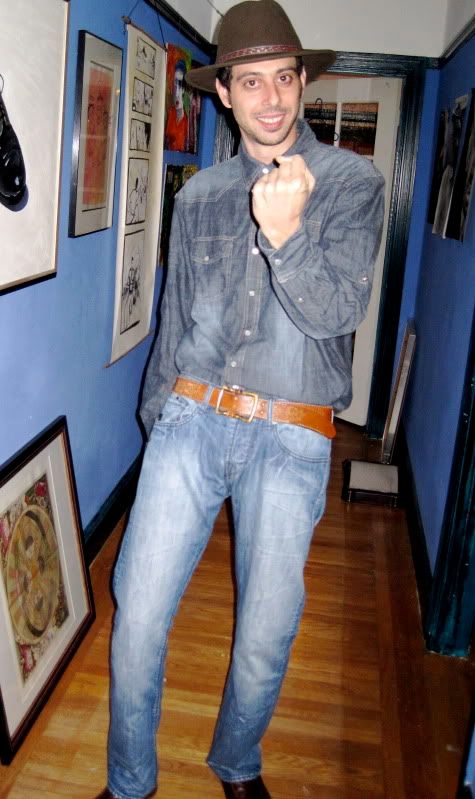 Ben dressed as Dr. Zahi Hawass from History Channel's
Chasing Mummies
, complete with double denim and the signature archaeology hat.
We went to The Mint karaoke bar to give Evy her birthday present and hang out for a minute or two. Before going to the bar we stopped at a grocery store so I could buy a Gatorade for my poor stomach-- I figured I needed to replace the electrolytes lost from yakking. So we walked over to the bar and the bouncer at the door gave me a really hard time about having that Gatorade. I had only had a few sips and he told me I needed to throw it out. I told him that we weren't staying long, that it was only Gatorade, and that I was sick and was not trying to get drunk on the cheap, as he was implying. I really didn't feel well and I felt so frustrated that tears came to my eyes and I could feel the makeup running. We just walked out to finish the drink and walked back in, giving evil eyes to the bouncer. I handed Evy her present, chatted with my friends for a minute or two but I felt miserable and we left after being there for something like ten minutes.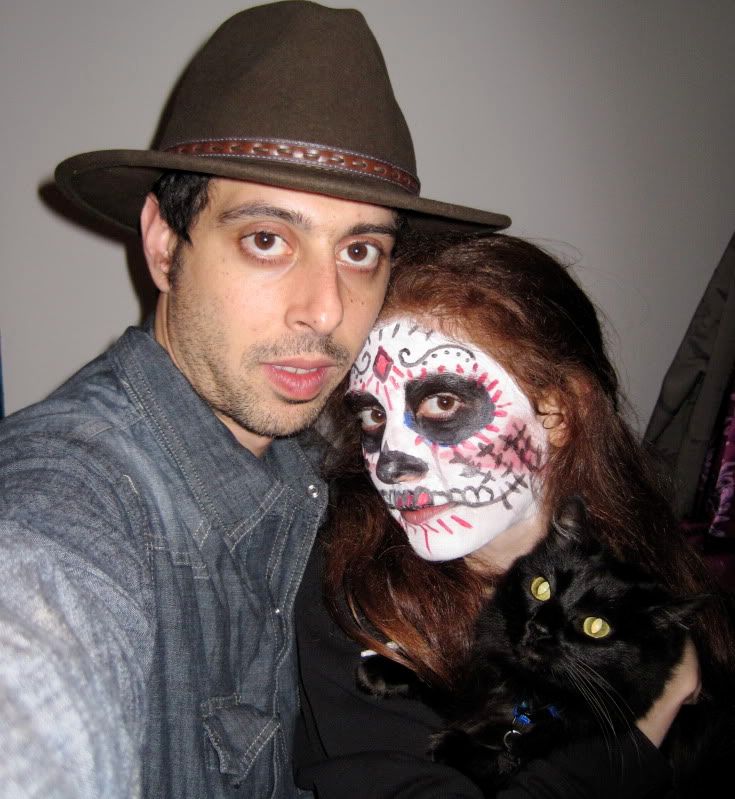 Our spooky little family: Me, Ben and Sookie after we got home.
Anyway, that was my weekend in a nutshell. How was yours? I had a lot of fun and hope you did, too! Happy Halloween!