#FF on Twitter stands for Follow Friday, a hashtag (or label) that we use only on Fridays to let our followers know who is cool and who deserves to be followed because they are just that interesting. I do not do Follow Friday every week because it feels a little like pandering to me, but every once in a while I will break out the double F and tell my tweeps what's up.
I posted two #FollowFriday tweets this morning: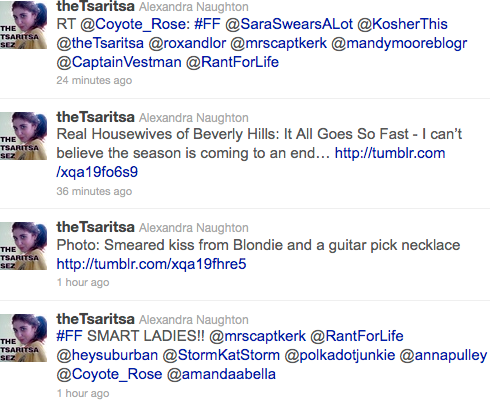 My rule for Follow Friday is that I only pick Twitterers who give me the time of day. You know, the people who respond to my queries and mentions and who don't act completely full of themselves. It bugs me to no end when I attempt to form a line of communication with another Tweeter only to be ignored. Bitch, please. If I can get a response from a
Gold-selling rap artist
, then I definitely expect a response from your 44-follower-having-ass when I ask you a question. Is that too harsh? Sorry, it annoys me when people act like celebrities when they clearly are in the same boat as all of us. Rest assured that I'm not talking about any of you lovely people.
How do you feel about Twittiquette (Twitter etiquette) and promotional hashtags like #FF? I'm curious! Would you #FF this azz??