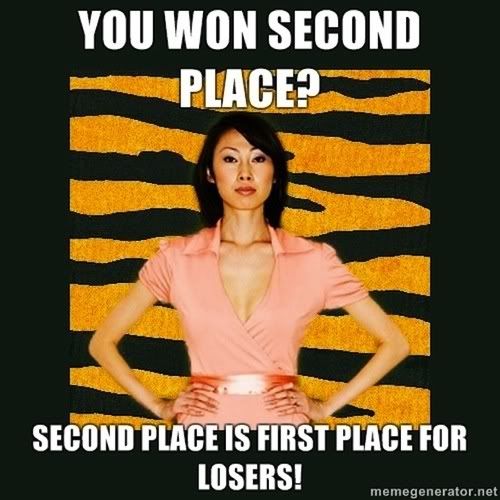 image source
Ever since I read the article in the Wall Street Journal a while back when the story was first starting to buzz, I have been thinking of writing a blog post about "tiger moms" and my own personal experience. My sister and I grew up in a house with rules. We always had chores to do, ever since grade school, and were given a weekly allowance of five dollars each. I would usually save most of my money in my piggy bank so that I could buy something I really wanted later. We were allowed to watch television, but only if we were finished with our homework, but mostly we were encouraged to go outside and play.
After school every day my mom would pick me and my sister up from school and we would walk to the playground a few blocks away so that we could run around, swing on the swings, and socialize with our peers before it was time to go home and do our homework. After we finished our homework we would have dinner, and if we didn't like the vegetables on our plates we had to eat it anyway. We were only allowed to drink soda on the weekends. We were only allowed to have friends come over on a weekend or in the summer. We were allowed to pick our own extra-curricular activities, but once we picked them we had to stay with them for the whole session, even if I decided I wasn't the best softball player.
We were taught to respect our parents and not talk back to them, and if we did we might catch a quick slap across the face by my mother. We weren't allowed to say swear words, and if we did we had to write out, Bart-Simpson-on-the-chalkboard-style, "I will not use swear words and I am very sorry...," or something of that nature, on a piece of paper 100 times. We were pretty good kids. That was the discipline side of it. My parents also encouraged us to be creative. They gave us paper and crayons, and my dad would sit down with us and draw with us. That kind of things gives kids confidence. Giving the kid the freedom to just have fun and doodle on some paper and make a story about the picture you drew, or whatever, is fun and shows the kid that using your brain is fun. My parents encouraged me and my sister to read and during the summer we would check out as many books as we could at a time because we genuinely enjoyed reading.
I guess you're wondering when I'm going to start talking about the tiger mom and her distasteful methods of parenting. Personally, I think it's possible to raise a child to be responsible for his or herself and to be disciplined, but Amy Chua's methods are completely ridiculous. To call your own child garbage just because they aren't performing on the piano at whatever level you think they should be on is just cruel. To me, that style of parenting reminds me of those parents you see on reality television living vicariously through their children. Like, they didn't get their chance to win the beauty contest when they were young so they enforce that goal on their children and work them to the bone to achieve it. It's pathetic. My parents didn't get all the opportunities I had as a kid and they wanted me to do better than they did, but not so they could live out some sick fantasy through my achievements. They wanted me to get a college education so that I could have a choice. See the difference?
My feelings on this are no more profound than anyone else who has already spoken out on this subject, but I just really felt compelled to pipe in with my own two cents. I agree that there are some new-agey parents out there who do not discipline their kids and that lack of discipline is setting our country back in the workforce, but at the same time there are plenty of strong parents who are instilling an excellent work ethic into their children, like mine did, which has certainly made me who I am today. It's important to give your children some freedom to be creative and independent. After all, if the parent is always the one making the decisions, how will that child fare when they are not with the parent and have to make their own informed choice. Will they be able to? Not to mention all the damage browbeating does to one's self confidence.
My main point is that discipline is important, but so is love, understanding, trust, and confidence. My mother is definitely superior to any tiger mom. Beat that! Grrr!