Photo of a SEPTA bus at the Frankford terminal. Image via Wikipedia
My 300th post about growing up
got a lot of great and encouraging comments. It seems that I am not alone in sometimes feeling like a little kid amongst grown-ups, and what a relief it was to find out that my anxieties about my lack of success (at the old, old age of twenty-five years) are not uncommon.
I really do want to be successful in my work, and I am eager to get some grand (or what I consider "grand," like finding an internship) accomplishments under my belt. I won't let other people's perceptions get me down or keep me from my goals, but I felt better after vocalizing (er, writing about) those concerns. I know I act like a badass, but even the most kickbuttingest of us have self-doubt sometimes. It's called being human.
Age doesn't have much to do with maturity
, as evidenced by people who are old enough to know better acting like they're in high-school (I'm looking at you, Anthony Weiner and countless others). Qualities like paying taxes and home ownership might be attributed to adults, but these qualities alone do not an adult make. For clarity's sake, I decided to compile a list of what makes, and what does not make, a
real
grown-up:
- Being an adult is not predicated on what type of clothing you choose to wear.
- Being an adult has nothing to do with the level of your success or your "status" in society.
- Being an adult means you make your own decisions and realizing that you are the master of your own destiny.
- Being an adult doesn't mean that everything in your life is perfect. Not everything turns out the way we plan, but an adult embraces the chaos thrown at them and finds a solution-- without whining too much.
- Being an adult means you treat others with courtesy and respect. (Thanks for reminding me of that point,
DB of Free to Dance
)
- Being an adult means that you are respectful of yourself.
- Being an adult means understanding that the world does not revolve around you.
- Being an adult means that you are comfortable with yourself.
- "Being an adult is finally having complete independence and then willfully giving it away for 40+ hours a week," says
Christopher of Notes From Underground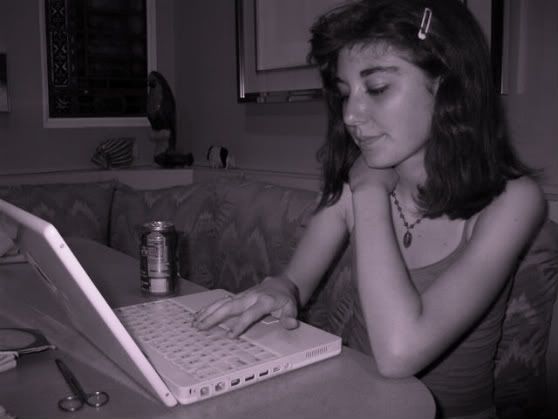 Keep blogging, Young Alexandra! Here is another old photo I found in the depths of my Photobucket album, showing me at age 19. With bangs. Taken before I was covered in tattoos, during the Friendster/Myspace/Xanga/Livejournal years. Currently Listening: Bright Eyes. Mood: Thirsty.
Did I miss anything on the list?
What does being an adult mean to you?
Tell me in the comments section!