Do you ever watch
Watch What Happens Live
, the thirty-minute live Bravo show in which
Real Housewives
and other shows from the channel are recapped and discussed amongst sundry guests? Well, at some point in the show the host, Andy Cohen, takes a moment to tell his viewers about three things he's obsessed with at the moment. I'm obsessed with a few things right now, and I thought I would share them with you:
-
Turntable.fm has become my new main resource for music.
Have you been on the site yet? I kept seeing updates from my friends on Twitter about what songs they were playing in which room on Turntable.fm. I didn't think much of it at first, but after seeing a dozen or so updates about DJ parties happening on this website I caved into my curiosity and logged in. I ended up spending the rest of the day creating playlists and party-hopping from room to room with my little avatar, jamming out and spinning hip-hop with fellow Wu-Tang fiends. It's awesome. Come spin with me!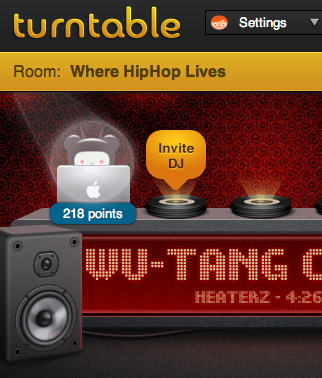 -
I'm in the midst of writing an article
about online professional networking and how it benefits people in our generation, particularly people with alternative careers such as entrepreneurs and work-at-home business people.
If you feel like you have anything to say on this topic, please drop me a line!
-
Writing raps.
Wishing I had the skillz to produce my own beats. Maybe I'll start farting around on Garageband and see what transpires from that. The raps I have now are paired with instrumental beats (Dead Prez, Swizz Beats, et cetera), and I have a friend who said he could help me record them. I'm very excited about finally cutting some wax again, it's been a while.
-
Bay area hip-hop, but not Kreayshawn.
Although I agree with the overall message of her single "Gucci Gucci" that I keep hearing and see being discussed everywhere, I think she is a lousy rapper (but it's kind of growing on me). The dismissal of materialism is awesome (I've always felt like a sense of style meant more than being a slave to designer labels, and I love Kreayshawn's rejection of those "basic bitches") and the beat is siiiiick, but I'm not really a fan of Kreayshawn's rapping style. It's irritating. And rapping about selling Adderall? That's nothing to brag about, it's just really lame. I'd rather
catch random cyphers
while window-shopping or
bump some LURKDAT
.
-
My steam mop.
Ben got me a Eureka Enviro Steamer mop and I really love it. I asked for it for Christmas but he ordered it online and it didn't arrive until after the holiday. This is not the first time I asked "Santa" for cleaning equipment as a Christmas gift. My mom gave me my much-desired Swiffer Sweeper when I was 13. I loved that thing. Yes, I know I'm weird. I had the house to myself this weekend and what did I do? Had my friends over, drank mimosas, made a karaoke video, and cleaned. You could eat off my kitchen linoleum right now.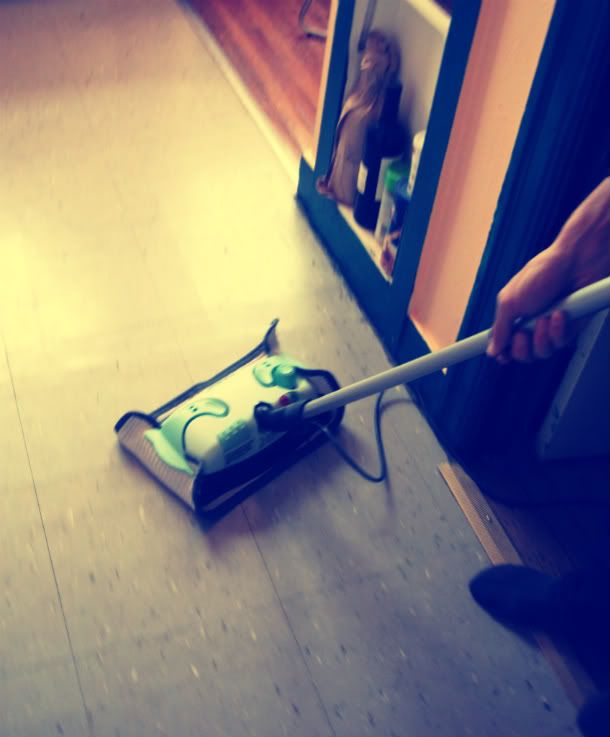 -
BeKnown and developing a super-critical eye when it comes to web design and function.
I wrote about my new job as Community Manager for Monster.com's new professional networking application,
BeKnown
a few weeks ago (please add the app and connect with me-- I'd love to hear your thoughts).
Since then I have spent a great amount of time scouring the internet for articles about the app and dissecting
BeKnown
itself to pick out which features should be added and what is working well and could be expanded upon. I've also taken this critical eye to every website I visit, including the first obsession on this list.
-
Messing with my sidebar.
I just added a Networked Blogs widget to my sidebar and I'll probably rearrange the placement of the widgets about six or seven times until I'm satisfied. OCD, anyone?