Are people bored of hearing about
the Occupy Wall Street / Occupy Everywhere Movement
that has been going on for over a month now? I surely hope not, because I still have plenty to say about it.
If you're still confused as to what everyone is so jazzed-up about,
please read my piece describing the message of the movement
, or check out this
eloquent letter reposted here from the Daily Kos
, but really, all you have to do is read the signs people are holding (or read a newspaper) to understand why most of the country is voicing their troubles.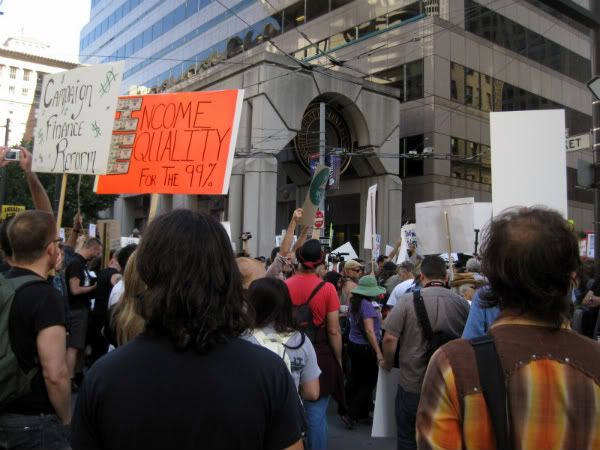 Campaign finance reform and income equality are two of the hot-button issues.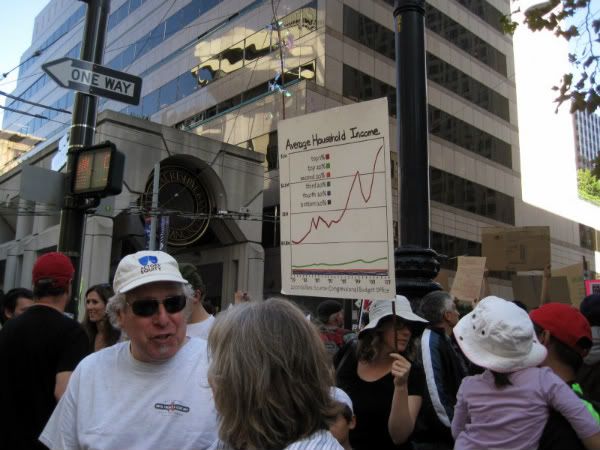 Average household income for the wealthiest in this country has gone way up, while most of us are left out in the cold.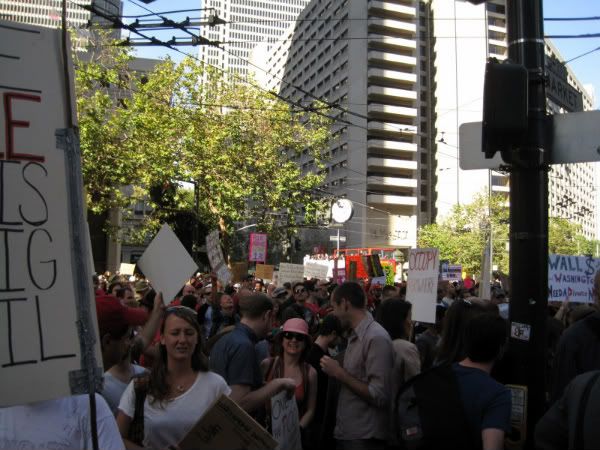 So many people gathered in support of the 99 percent.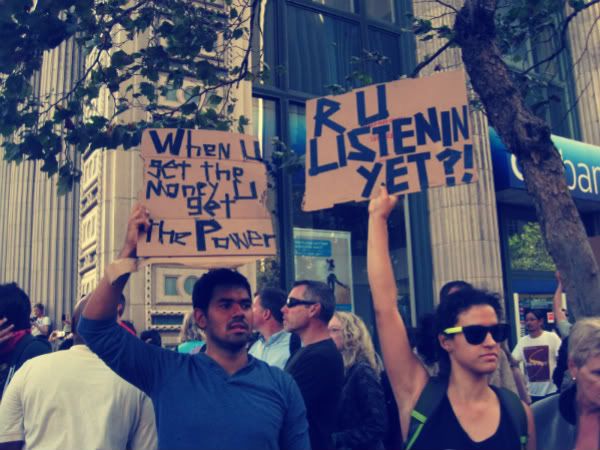 "When you get the money, you get the power..." a quotation from
Scarface
appropriated here.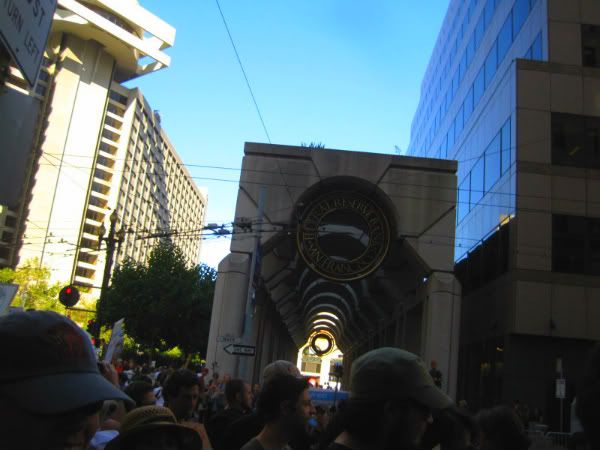 Masses outside the San Francisco Federal Reserve building.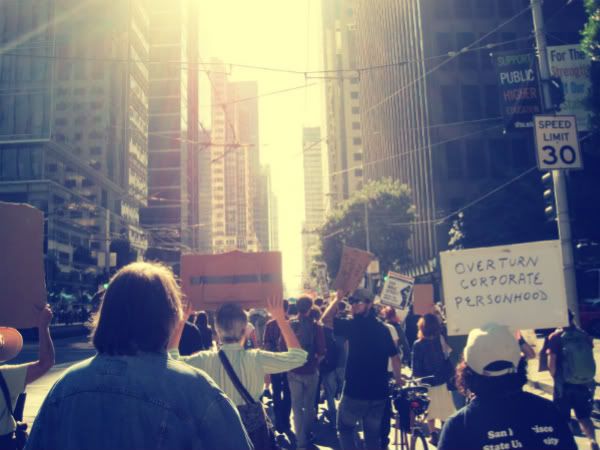 Overturn corporate personhood. Yes, please. A non-living entity is not a person! What's next, tax breaks for ghosts?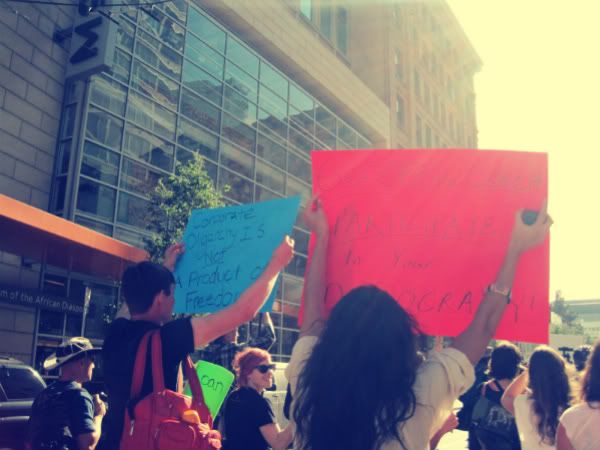 Corporate oligarchy is not a product of freedom! Get off the couch and PARTICIPATE in your democracy! It's our country, too!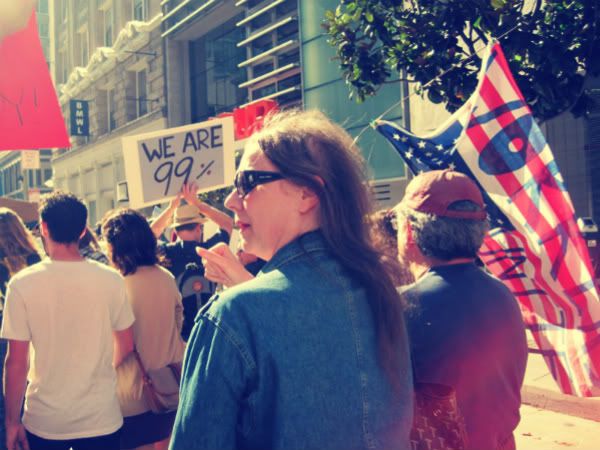 Young and old, people from all backgrounds flocked to downtown SF to support the cause.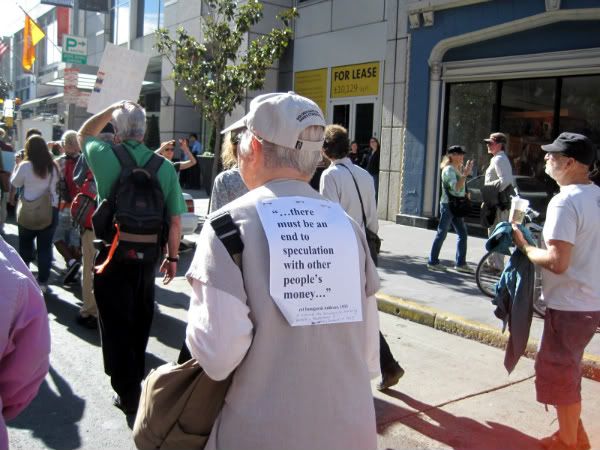 "There Must Be a Strict Supervision of All Banking and Credits and Investments.There must be an end to speculation with other people's money..." Uh, yeah. FDR had it right the first time, in 1933. Why haven't we learned?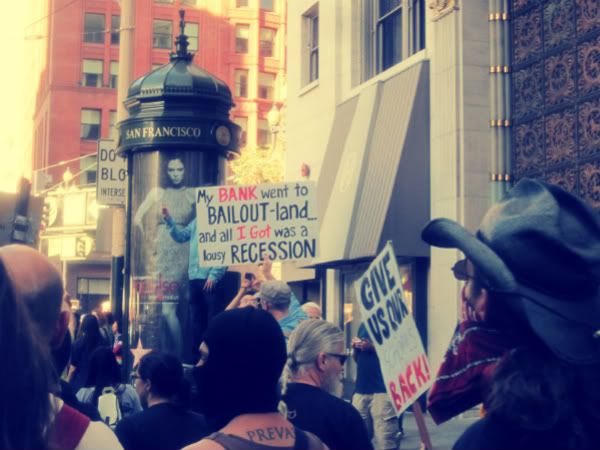 "My bank went to bailout-land and all I got was this lousy recession." I got an account with the unemployment office as a souvenir! And yo, please give us our schools back. So many problems within this country could be solved easily with a better education system (but the people in power don't care because they send their kids to private school, anyway).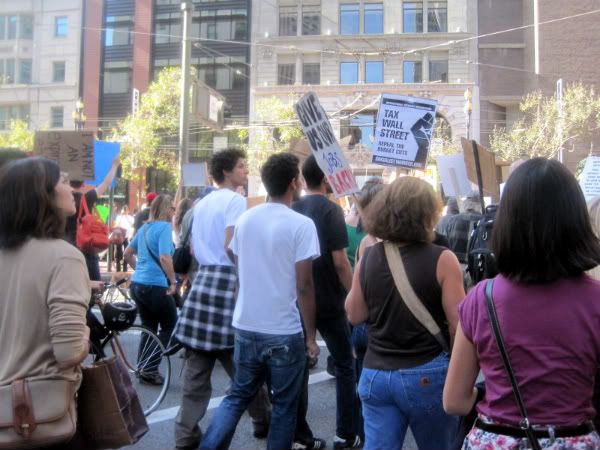 Joining a credit union and taking my money out of the bank... I'm working on it.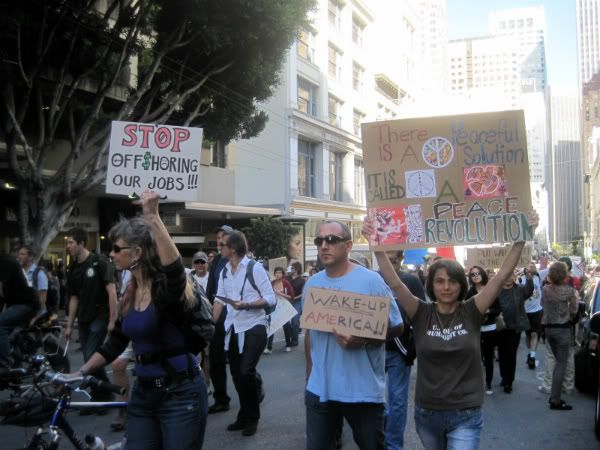 America seriously needs to wake up. I pray for the 85% who don't have a clue.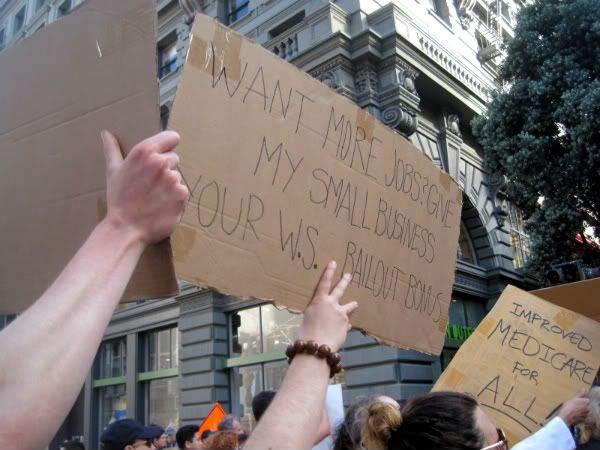 Seems logical enough to me. Instead of bailing out big businesses (who clearly were making terrible decisions), why not bail out small businesses? Hmmm?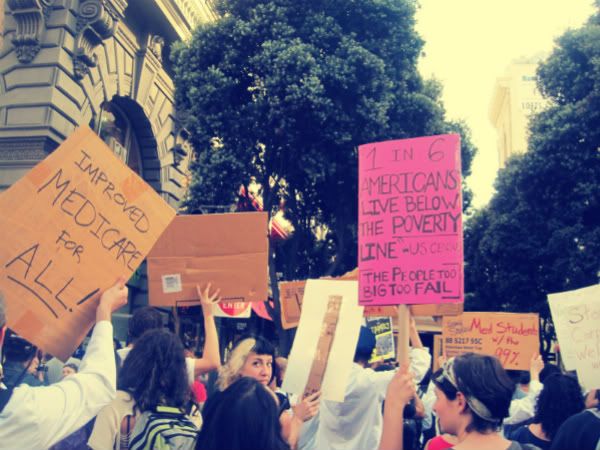 We are the American people. There are too many of us to fail. We cannot fail.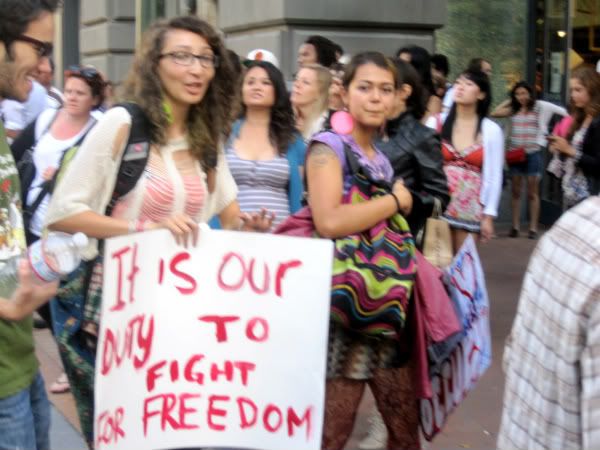 We're fighting for freedom, we're praying for peace.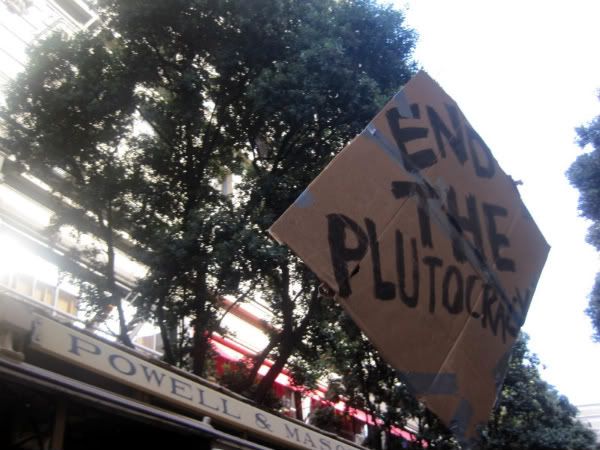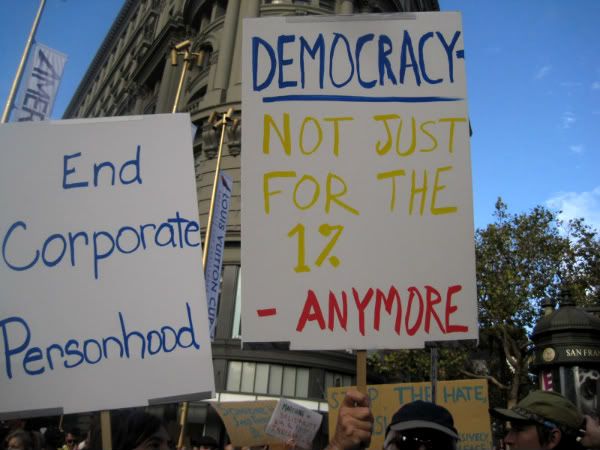 "Democracy, not just for the 1% anymore!!"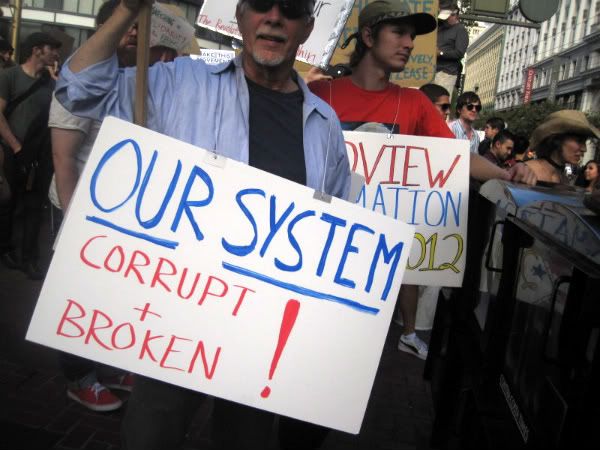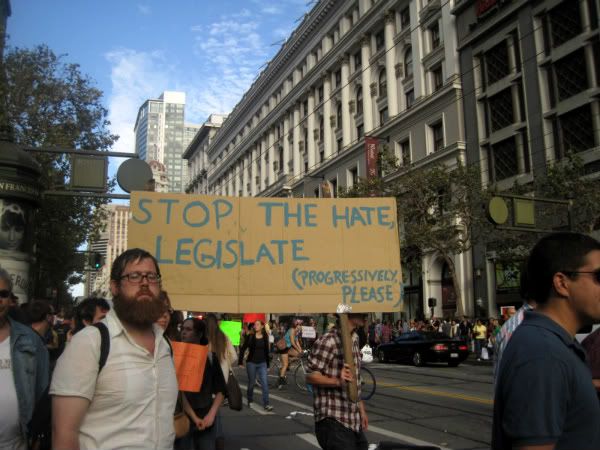 Let's legislate without the prodding of private enterprise and lobbyists.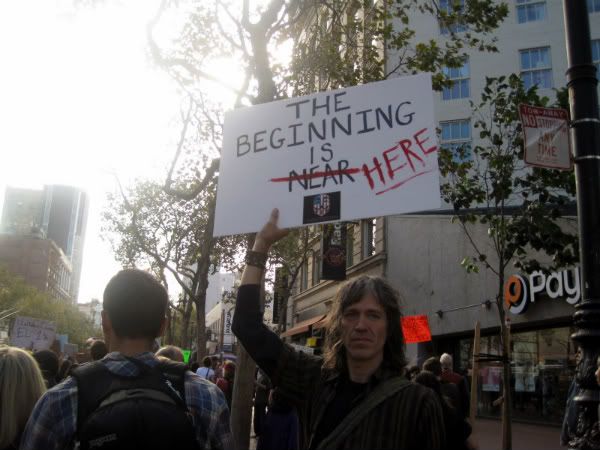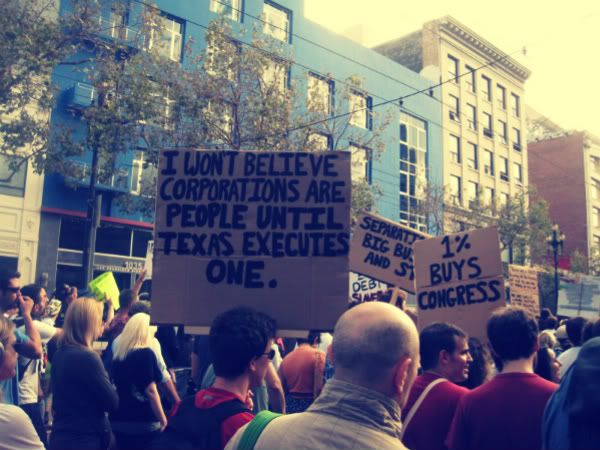 LOL. What do you say to that, Rick Perry?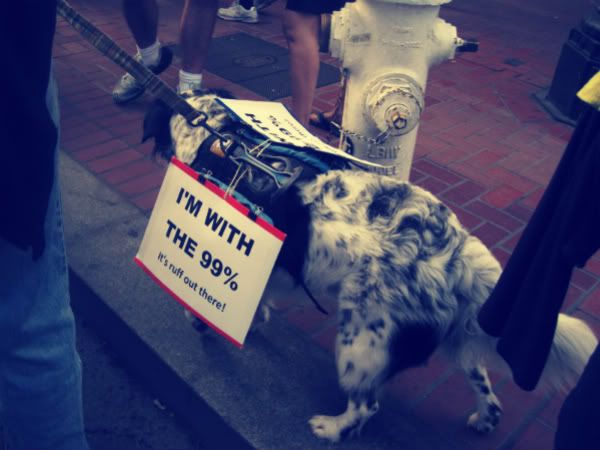 The cutest sign of the day. It really is ruff out there.