Have you ever given thought as to what you would want written on your tombstone? Obsessed with death as I am, I have only thought about it maybe once or twice.
I guess I haven't done enough in my life to really know in this moment how I would want to be memorialized. I do know that I want to be cremated, however, and my survivors needn't worry about spending money on a fancy urn. Any old coffee can will do, and perhaps is more appropriate. Plus, I'm cheap. I guess that means I don't have to worry so much about some last words on a headstone.
My morbid musings aside, Ellen Barkin was on Piers Morgan's talk show on CNN the other night and he ended the interview by asking the actress: "If you could write your epitaph, what would it be?" Ms. Barkin paused for a moment and then jokingly said she would use the famous epitaph W.C. Fields proposed for himself (which was never used, his memorial plaque simply states his name and the dates of his birth and death), "On the whole, I'd rather be living in Philadelphia." Watch the video!
It's a funny epitaph and it's able to both mock and embrace Philadelphia at the same time. Fields was from Darby and spent a great deal of his life in Philadelphia (he even worked at the Strawbridge & Clothiers-- on Broad street?!-- when it still existed, *sigh*), and that love/hate relationship and sense of humor that most Philadelphians have about their city is very apparent in that remark.
In other news, take a look at this badge Ben made for me and let me know what you think. Feel free to grab it and post it somewhere ;)
I'm thinking about adding a header to this blog, but I'm not sure. I kind of appreciate the sparsely designed nature of this blog, but what do you think? I know some of you don't like the ink blot background, but I intend on keeping it. I like it.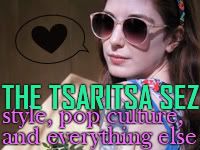 P.S.-- Shoutout to my new followers! I hope you like the blog! Look around and leave me some feedback :)