They say that you should never get a tattoo of the name or face of your lover. It's bad luck, as the legend goes. It's also common sense (and pretty tacky). No matter how much you love that person right now those feelings could change the next day, but a tattoo lasts forever.
Kat Von D, the acclaimed tattoo artist based out of Los Angeles and star of the TLC show
LA Ink
, was dating neo-Nazi and all-around-douchebag Jesse James. Was being the operating word. Remember the guy who broke Sandra Bullock's heart by cheating on her with a myriad of porn stars? Yeah, that's the guy Kat went after.
Last night on
LA Ink
we saw Kat get a tattoo of Jesse's fifth grade yearbook photo on her torso, right under her armpit. What a terrible idea, but Jesse seemed very pleased. Even though the two are no longer together, but Kat will always have Jesse's bad grade school haircut to look upon when she's missing him.
I wonder if she'll get a cover-up? This isn't the first time Kat had a lover memorialized on her skin. She used to have the words: "I Love You" written in a scribbly font in red on her right shoulder, which she has since covered up with roses. Something tells me roses just won't cut it this time.
Check out this hilarious video of Andy Cohen on
Watch What Happens Live!
as he gives Kat an award for her ridiculous mistake:
As if we didn't see this one coming-- you really should have known better. Smooth move, Ferguson.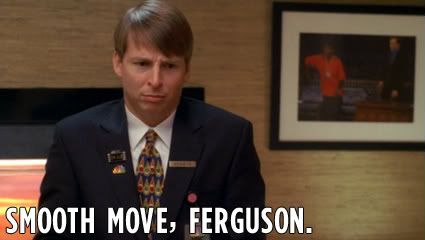 image source