This past weekend Ben and I were inspired by colorful musical figures from the 1990s for our Halloween costumes.
It wasn't a difficult look to put together, as we just wore our own clothes. The only extra accessory that we needed were wigs. Blonde wigs.
You know how much I love dressing up like a trainwreck-- there's just something really fun about pretending to be someone who is out of their mind, also I have an excuse if I happen to go a little nuts. Luckily, I took it easy and the only wackiness I got into was overindulging in the free snacks at an airbnb event late on Saturday night where my friend,
DJ Lil Elle
, was spinning.
Anyway, on to the costumes!
My inspiration: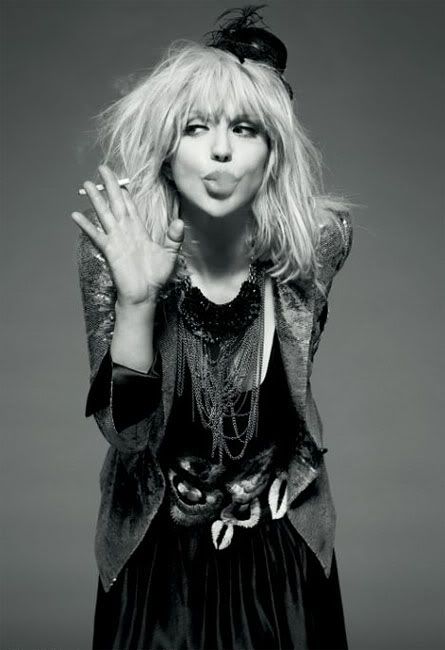 source
90s vintage dress (can I even say "vintage" if it's from the 90s? If 90s is vintage, what does that make me?!) that I bought a while ago but have never worn. It had the Courtney Love vibe going on, so I pulled it out of the closet for the occasion.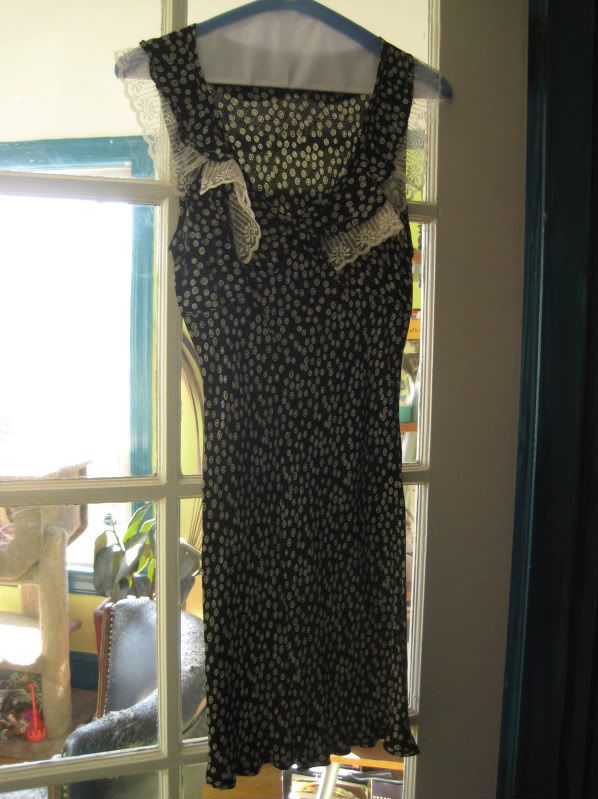 The "Heiress" wig I picked up at a Halloween Spirit store for $12.99. Not too bad, though the quality was very poor. I knew I would have to cut it.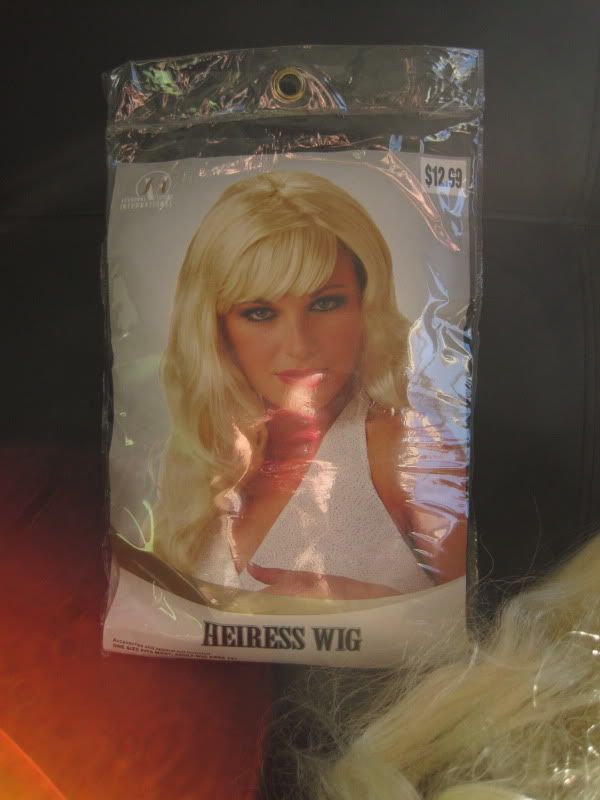 Posing in a wig cap and holding the bleached-blonde wig. It was super long and gross and reminded me of a dime-store Rapunzel.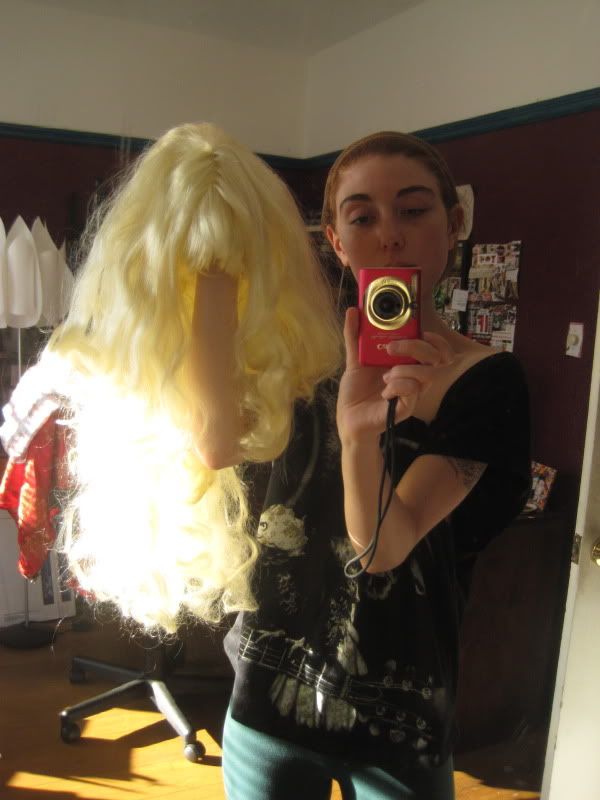 After giving the wig a first cut, I took a photo and posted it on Tumblr and Facebook asking if it looked all right and if I should cut it more. I knew it needed to be shorter, but I didn't want to go too short and risk the synthetic hair falling out all over the place. It had already started to fall apart when I began trimming the length.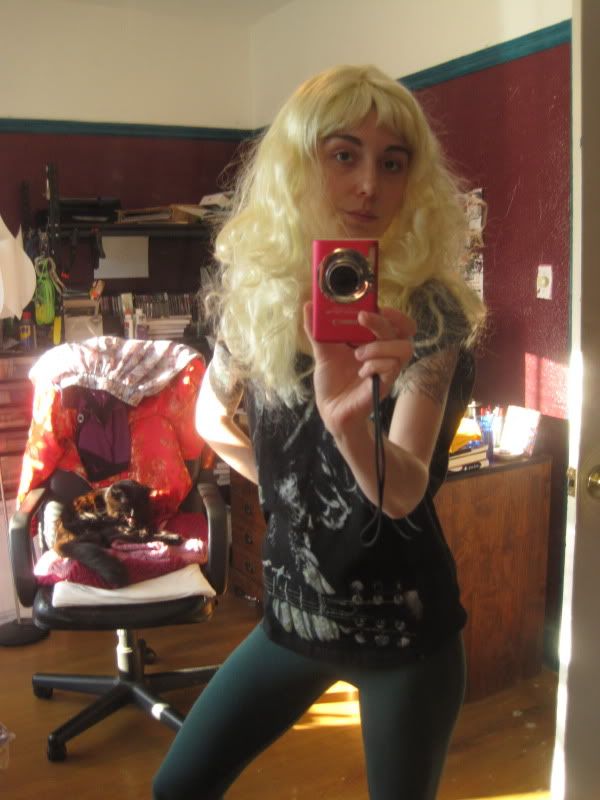 After I felt satisfied with the styling of my wig (which I had a hard time stuffing all of my hair underneath), I threw on one of Ben's plaid shirts over the Valley Girl dress, added some torn stockings and boots, and voila!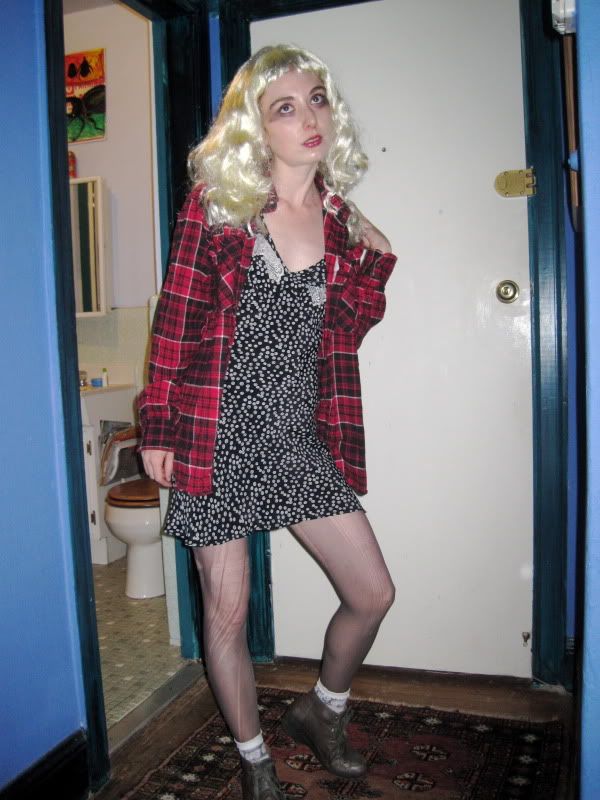 Doing a dazed face while waiting for pizza at Little Star, where we dined in costume and felt eyes darting over us as we relaxed and dined.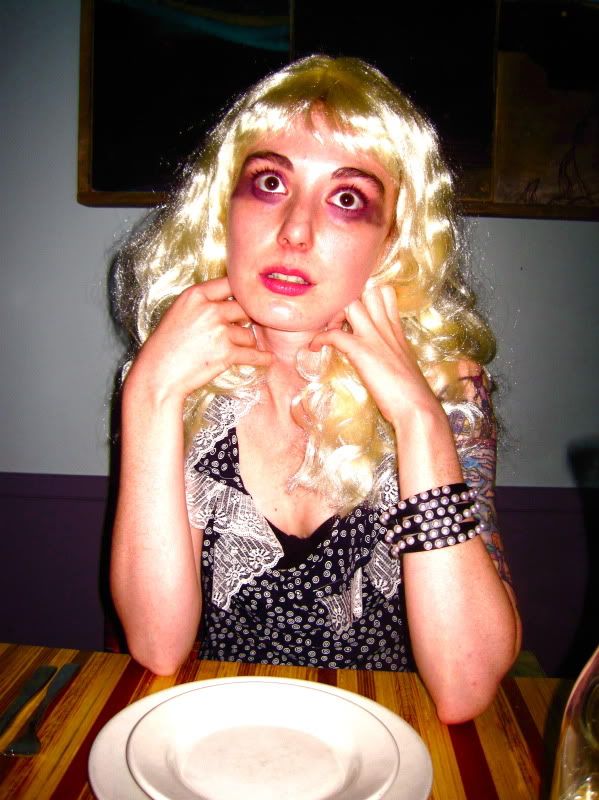 Ben, with his grandpa sweater and Kurt Cobain wig: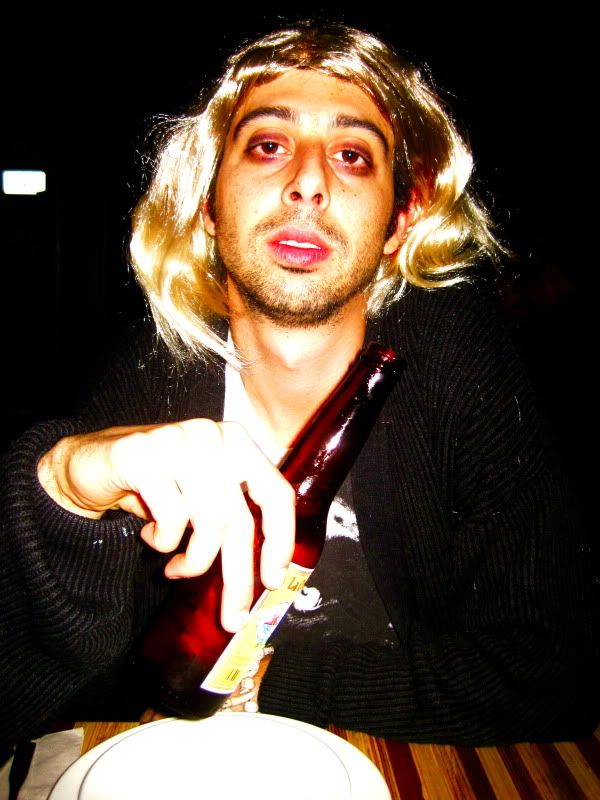 After a deep-dish pizza debacle (we mistakenly ordered Chicago style by not specifying when I wanted thin crust-- the only real pizza is thin crust pizza, IMHO, but we ate it anyway!) we stopped by Solstice and sat at the bar with Juv, dressed as a zombie Raggedy Anne, and her banana-friend: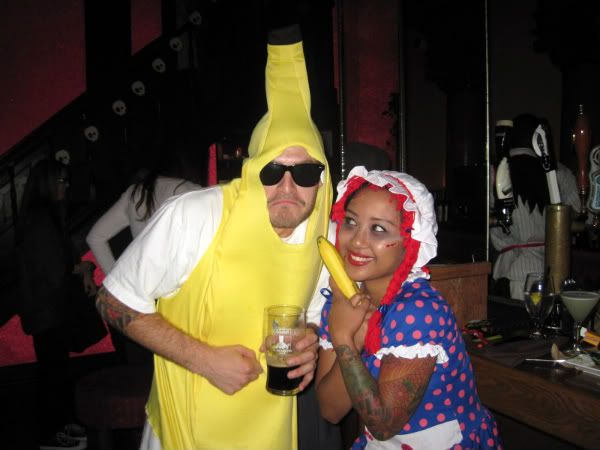 The happy couple: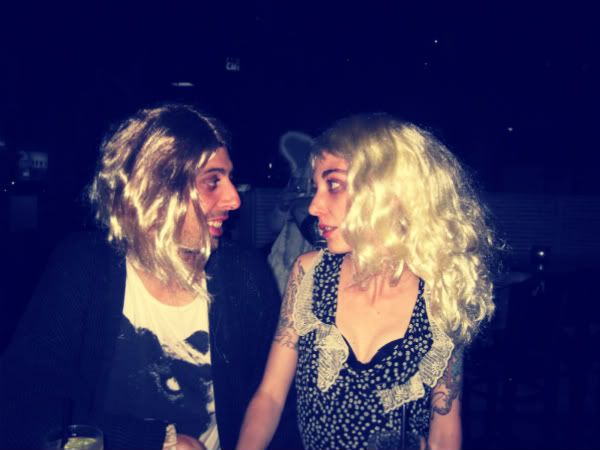 Getting photobombed by a Vendetta/Occupy dude while making my gangsta face: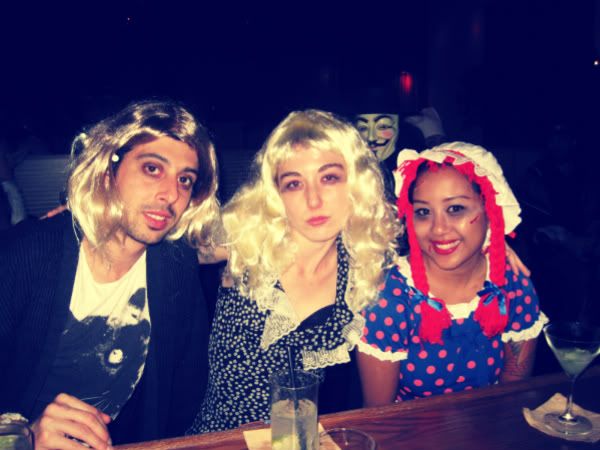 Saturday night was a lot of fun-- it was nice to get dressed up and go out, even though I was still trying to fight off this cold and wasn't feeling 100%. My nose looks super dry in the photos from all the tissues I've been going through since Tuesday (the same day I started my temp job, coincidentally), but I guess it adds to the Courtney Love look.
Did you have fun over the weekend? What did you dress as, and where did you go?

Also, do you think I look good as a blonde? LOL