"Don't... don't... don't... don't believe the hype (wah-ha-ha)"
-- Flavor Flav, of Public Enemy, in "Don't Believe the Hype"
When so many people are talking about some pop culture sensation, I have a hard time finding interest (unless Leonardo DiCaprio is involved.. *swoon*).
It's the contrarian in me.
Sure, I miss out on some pretty cool things this way, but I can't help it.
When
everyone was buzzing with excitement over Eat Pray Love
, I rolled my eyes and took Allen Ginsburg's name in vain.
So this summer when I couldn't log into Twitter without being bombarded with friends and internet people squealing with glee over
The Hunger Games
, I pretty much held my breath for
EPL
two point oh.
I know the basic premise, and it smells remarkably similar to an excellent Japanese film from years ago called
Battle Royale
. Yeah, they may not be the exact same thing, but I have a feeling that I won't be missing out. And besides, anytime I feel like someone is pushing a product on me, whether it be a book, movie, razor blade, whatever, the more likely I am to ignore what is being pushed.
And don't get me wrong, I'm not hating on it. I hope the people who read the books and watch the movies walk away from them and think twice about the way society is heading and what we can all do to positively change the future.
If you embrace the message of
The Hunger Games
,
I hope you also embrace the 99 Percent Movement.
Please feel free to correct me if I am wrong, but I still think this little meme I made is funny: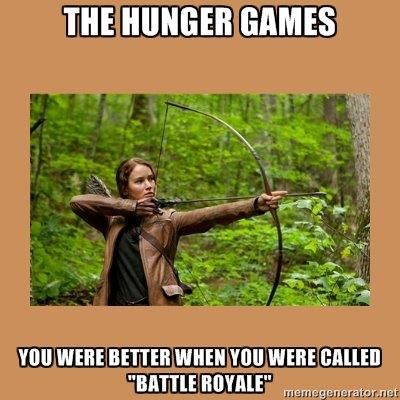 PS-- I'm so late to hop on the meme generator bandwagon, but it's pretty cool. Also, a lot easier than trying to create something decent looking using Photobucket editing tools and text.