"Why is that woman staring at me?" I asked my mom, who along with my dad was visiting me in San Francisco.
I looked down to make sure I wasn't sporting a camel toe and felt around my nose in case a booger was hanging out. I was safe.
"I think she's just checking out your outfit," mom said. "Look at what you're wearing."
Red acid wash pants, knee high black boots, leopard print top, and gold hoop earrings. I guess she had a point.
I'm not sure why I was so quick to assume that the woman looking at me was judging me, but I don't think that the reaction that I had to her looking was an uncommon one. The last time you noticed someone staring at you, did you stop to adjust yourself, or did you take it as a compliment?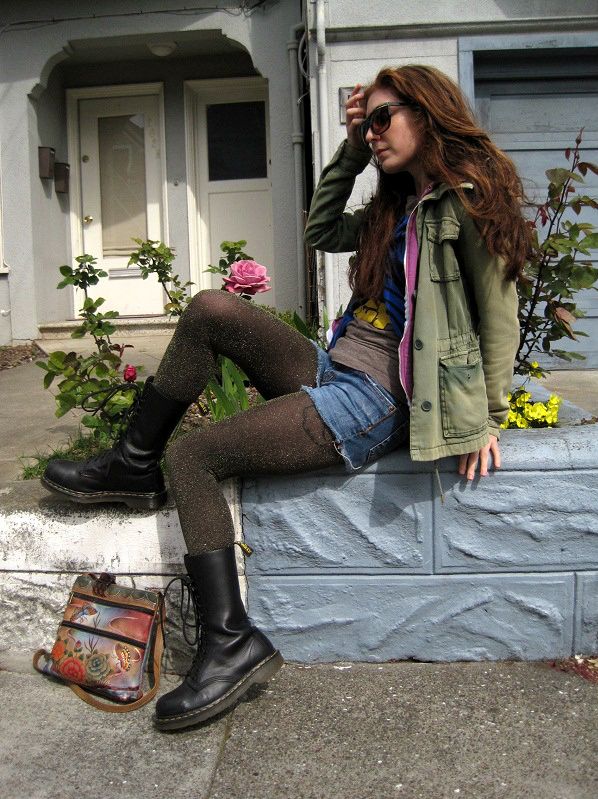 Just one of my casual weekend looks
When I walk down the streets of my city, I'm constantly checking out the outfits of the other passers-by. San Francisco is a very fashionable city-- casually cool and eclectically stylish-- and you'll see everything from posh label-seekers to vintage lovers to colorful punks wearing hand-sewn designs. Just stepping out to the grocery store can be an ocular buffet, and quite inspirational, for style fans.
Sometimes I'll see something really horrendous (like yesterday when I was walking to Ben's office and saw a lady wearing just an oxford button-up shirt (no pants, no skirt, and the shirt was not long enough to be a dress) with sheer stockings-- she was walking in such a way as not to expose her upper thighs, but I saw her crotch as she passed me. I felt bad for her, because she probably felt self-conscious all day, but one has to wonder why would you step outside half-dressed, much less go to work like that?), but most of the time I see extremely snappy dressers.
Lately, I've been making more of an effort to smile at these stylish folks as I pass them on the pavement. Maybe it's because I've been reading
How To Win Friends And Influence People
by Dale Carnegie (to learn how to be more diplomatic with difficult people, with whom I must be diplomatic), but it's true that when you smile and pass on a little bit of happiness to a stranger, it in fact makes you a little happier. Try smiling at someone the next time you're feeling a little glum, it really does work.
With all the time people spend on social media and behind the computer these days, we don't really know how to act with other strangers. How many times have you walked into a room where people were waiting for an event to begin, and everyone is looking at their phones? I'm not a fan of small talk, but it's a lot less awkward than sitting in a room with other people and pretending that they don't exist (public transportation exempt). But it happens all the time.
I saw a lady yesterday as I was crossing the street, coming back from my lunch break, who was wearing an elaborate outfit that I could tell she created herself-- her jeans were painted and cut-up, her t-shirt design was DIY, and her accessories were colorful and funky, but it all really worked-- and gave her a smile. She smiled back. It was human, we had a connection for a passing moment.
Call me a nerd, but I'm the type of person who, when I'm really awestruck by someone (because they are dressed creatively, because they have a great singing voice and aren't afraid to belt it out in the middle of a public square, et cetera), will usually go right up to them and tell them that I'm a fan of what they're doing. It gives me butterflies to go up and do it, but it also usually makes the other person smile and feel good, and I walk away feeling good.
So the next time you see someone cool, don't just stare at them-- smile say something nice to them! It's mutually beneficial and it won't cost you a dime.