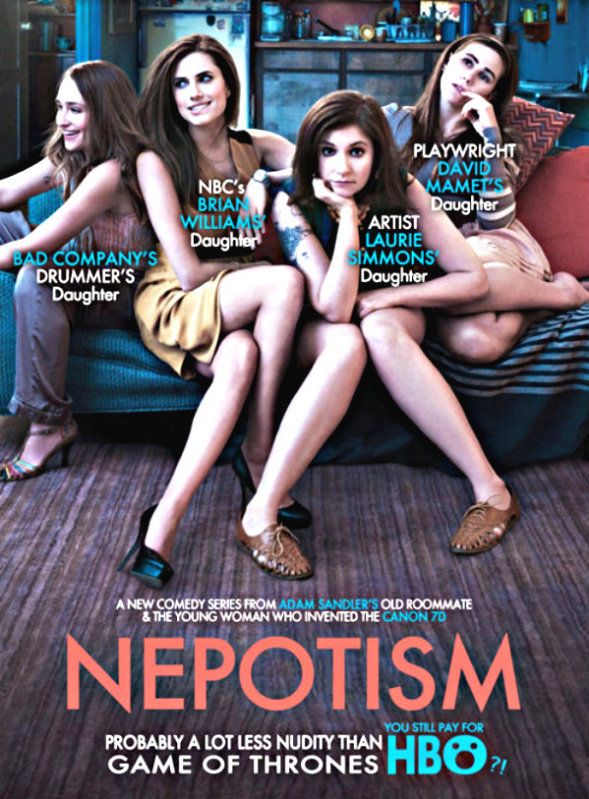 image source
Re: the Girls shitstorm
. I'll admit, I only lasted through the first six minutes of this show. I won't trash it, because other media outlets and blogs did a good job of that last week, but I will say that not every 20-something is a privileged woman-child living on their parents' dime, walking around like the world owes them something. Sure, we have our fair share of those kind of people in our age group (which generation doesn't have its share of self-important jackasses?), but Lena Dunham, Leslie Arfin and co. are not the voices of my generation. Not hardly.
The girls, and guys, in the Gen-Y set with whom I associate are all extremely hard-working people who pursue their creative passions in their off hours. One of my best friends,
Cyn
, is an accomplished comic artist who works a stressful day job to pay the bills. Another very good friend,
Jillian
, owns a successful business selling vintage clothing and rehabilitated retro furniture. Yet another very good friend,
Annie
works two jobs while studying to get her MBA. That's only three people whom I know personally, and I know a lot of movers and shakers (online and off)! So article writers: please stop comparing the entire "Millennial" generation to this bunch of lazy navel-gazers-- we're not all like that :)
I guess we should be happy that a show written and starring a twenty-something woman is making such a media splash. I am, but it doesn't mean I have to like the show, or feel like it relates to my life. As I wrote to a commenter:
No, you don't have to be able to relate to something in order to enjoy it, but I feel like my time is better spent not watching a show filled with characters similar to the types of people I try to avoid in real life.
There should definitely be more women, and women of color, and LGBTQ, and other minorities, writing for television so that these marginalized groups are not kept tied up in the tidy boxes of their stereotypes. I don't necessarily think
Girls
is helping that cause, but let's hope this failure of a show inspires more thoughtful (and nuanced) commentary on the lives of real twenty-something women in the form of entertainment programs.
Are you watching the show? Asking around, I've noticed that some people hate it, some people love it, but most people don't care at all.
What do YOU think?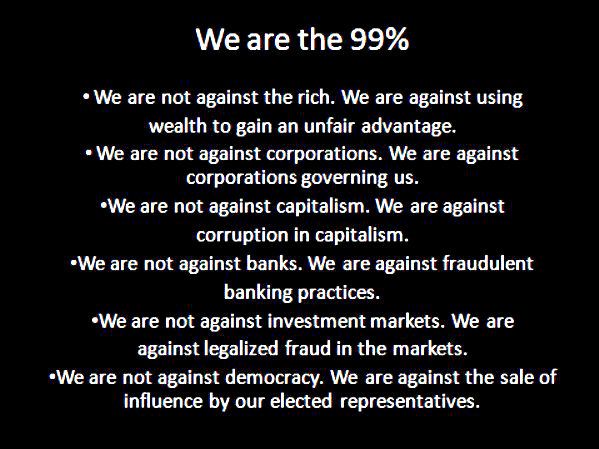 image source
I've
said the same things before in the above image in a blog post
, but it's nice to have it in a shareable meme format.
The Occupy/99 Percent Movement
has had its share of roadblocks since inception, but I am still a supporter of the spirit. I do not agree with the incessant camping out in downtown areas, but I do support the periodic and organized peaceful protests championing the causes of the disenfranchised and encouraging other regular people to take part in our democracy.
I think we need to get more organized and not allow the fringe bandwagoners (the people who do not represent the movement because they are there for their own selfish reasons and seek to cause trouble) to make a mockery of the important cause to which we are trying to call attention. We're not anarchists, we're not violent vandals: we're everyday people and we're here to represent you, no matter what your beliefs are. We're all in this same boat. UNITED we stand, divided we fall.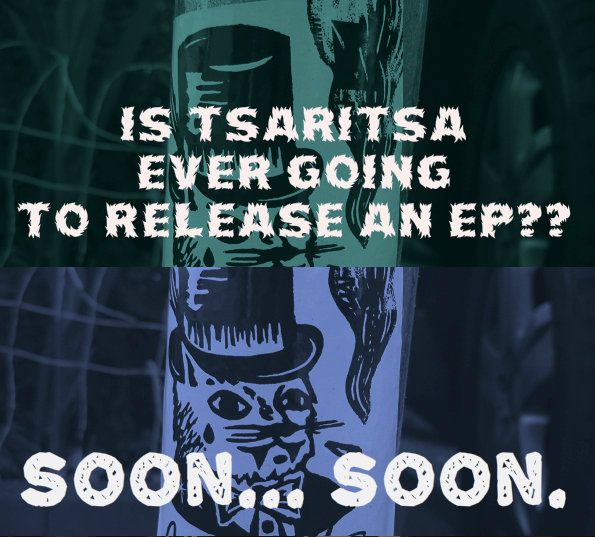 Lazy Tsaritsa, the wannabe rapper
: You probably aren't wondering why I haven't released
my much-hyped (on this blog) hip-hop EP
yet, but if you are you: I'm working on it still. As it has turned out to this begrudgingly self-admitted hobbyist, making music isn't nearly as simple as I thought it would be. My first problem is my lack of music theory knowledge and my ineptness when it comes to technology.
For example: I've discovered that recording at the desktop computer in my office means I'm picking up a lot of distracting background noises from the street traffic outside and everything else that make sounds. Under the advice of a friend, I've taken to recording in Ben's closet, where the exterior noises and the resulting hissing sound can't taint my vocals. However, this means I have to press the record button and then run into the nearby closet, counting down in my head when to come in with the vocals. Not a perfect setup, but like I said, I'm working on it.
It's a labor of love, but I'll be sure to keep you all clued in as to my progress. I hope you don't lose interest.