Today I'm happy to host Youngman Brown's guest post on this blog, which, might I add, I am halfway responsible for being written. YMB read a post I wrote a little while ago about a spooky experience I had in my own bedroom, with the lights on and everything. He commented that he was once "touched by a ghost" and said he was thinking about writing the story. I encouraged him, of course.

So here's the story. Please enjoy, and if you aren't reading Youngman Brown's blog yet, then you should start now.

Also, I'm still looking for guest posts. If you'd like to comment on a recent post on this blog, to agree or disagree, send me an email and let's chat :)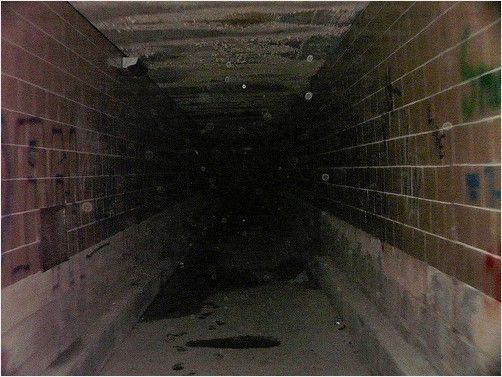 photo by Youngman Brown
"The morgue is down that tunnel," Amy said.
Pennhurst State School & Hospital, originally called the Eastern Pennsylvania State Institution for the Feeble-Minded and Epileptic was sprawled over 120 acres. Most of the buildings were built in 1906, and were all connected by underground tunnels. This way the patients could be transported from building to building, free from the stares of any onlookers. The idea was to keep the Crazies underground for appealing surface-level marketability. Pennhurst got shut down in the mid-80s for abusing patients by using cruel and unusual punishment to correct the "bad behavior" from the helpless patients they were supposed to be treating. The buildings have stood dormant since, sheltered by a fortress of looming trees.
If the patients hadn't felt trapped by their own minds, they certainly would have felt trapped by these walls, these tunnels. These tunnels that dug into the bowels of the earth and led to nothing pleasant. They could travel the tunnels and search every single room and never find solace. Perhaps that is why they were rumored to still be there, long after the place got shut down. After they had died. Tortured and confused souls wandering the hollow tunnels in seeking the help they never received in life.
This is what people said.
I did not believe in ghosts. Nor did I find this particular adventure to be particularly appealing. But it was the second week of college and I was trying to bond with my hall-mates, these strangers who were quickly transforming into my friends.
Earlier that night, Amy had entered our lives for the first time. She had an edgy, gothic feel to her. This, coupled with the fact that she was mind-numbingly beautiful, compelled me and my fellow drooling imbeciles to hang on to her every word as she spoke of her past adventures, as well as unflinchingly agree to get in our cars and go on a new adventure with her.
To follow her into the abyss, as it were.
"Let's go," Amy gleamed. She turned from the tunnel to face the seven of us, flashlight pointed faceward, illuminating her twisted grin. Suddenly, I wished that I had taken more time to get to know this mysterious girl, rather than agree to allow her to lead me and my half-dozen friends through an abandoned insane asylum.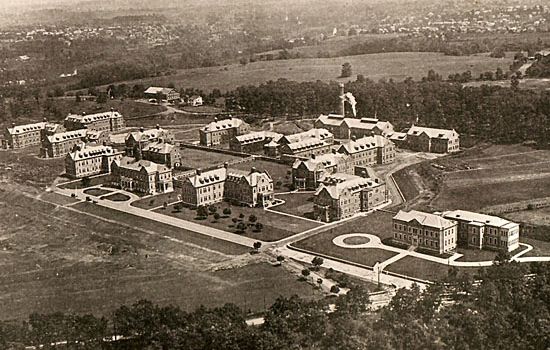 image via wikipedia
I hesitated mentally, but my legs found themselves moving my body forward, so as to not let my ego down. My brain began to worry. What if one of the still-alive abused patients came back to visit his old stomping grounds? There were also reports of bums living throughout the tunnels and buildings of Pennhurst.
The campus was militarily guarded, so we had that to worry about as well. I thought back to the signs we had seen posted before trekking the half mile through the woods, warning us that trespassers would be arrested. I imagined an army tanker, manned by hobos. Maybe I should turn around and take the verbal abuse from my friends.
But my legs continued downward into the tunnel.
The moonlight disappeared as the tunnel swallowed us, and I smacked my flashlight with the palm of my hand. It emitted an extremely dim glow that flickered due to the dying batteries and shook due to my nervous hand. We all walked in short stutter steps, afraid of what we might run into. Nobody proclaimed any kind of fear, but it was palpable.
To our left were stretchers and chairs, still eerily existent after some thirty years of abandonment. To our right lay room after room, filled with sinks, tools, stretchers, and child-like paintings. Each room must have had a story, but now offered only a dusty playpen for rats. In the car, I had been dared to lie in one of the patient's beds, and a picture was required as proof. My heart dropped when I saw a room full of beds down the hall.
Dave put his hand up like a soldier, signaling us to stop. Silence. Then we heard what sounded like a rubber ball being bounced.
"That's the children's ward," Amy hurriedly explained. My stomach clenched.
"I'm fuckin' done," Dave said as he hurriedly walked past me and back out of the tunnel.
Everyone followed except for me and Nate, a tall, well-built basketball player. Even Amy ran away.
"Let's take that picture," Nate whispered, pulling out his camera. We slowly made our way farther down the tunnel and my flashlight completely died. Fortunately, Nate brought a large one that required four double-A batteries and seemed big enough to double as a blunt-force weapon, should we need it. I stayed behind him as we moved forward, taking time to observe each room we passed in order to ensure that there was nobody there to sneak up behind us after we had walked by.
And that is when a new feeling overtook my fear.
Utter dread.
It is very difficult to describe the feeling exactly, as I had never felt it before in my life, and have not experienced it since. I suppose the best descriptor would be hopelessness. It was a combination of sadness, grief, guilt, and pain. Nothing in the past mattered. Nothing in the future would ever matter. And nothing in the present mattered except for this heavy burden of depression.
I suddenly realized that this wave of sadness had paralyzed me, stopping me in my tracks. Ahead of me, I saw that Nate had stopped moving as well. In the room to our left, I heard a swoosh. It wasn't really a footstep as much as a heavy dragging, as if someone had slid a heavy cardboard box over gravel.
Nate also heard it, swinging the flashlight to illuminate the area that my head had already snapped towards. Nothing but an empty room. "Did you hear-" Nate started.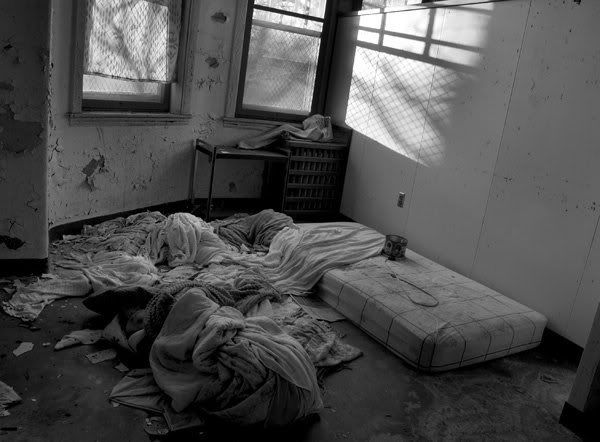 image via wikipedia
And this is when I felt an icy cold slap across the back of my neck. It was not painful, but was sudden and significant nonetheless – an ice-cold clutch, not unlike the grip of a hand. My feet sprang to life, no longer paralyzed by the dread that had kept them rooted. As I began running, I felt the icy sensation spread down my back.
The next thing I remember, I was running through the woods. I was not drunk. I do not have a history of memory loss. However, I do not recall running out of there, navigating my way through the rooms and twisting halls. Nor do I remember running straight past my friends who were waiting at the entrance of the tunnel.
In the woods, I bent over with my hands on my knees, trying to catch my breath. My friends frantically asked what had happened, but all I could think about was the coldness I still felt on my neck and the gloom that still resonated in my body. I needed to get further away.
"I… I think we just got attacked," Nate tried to explain.
"By what?" Dave asked.
By what, indeed.
So yea. When people ask me if I believe in ghosts, I tell them that I have been touched by a ghost. But when I tell them this, I am not talking about the freezing sensation that began to collar my neck. Sure, that was frightening. But it went away after a few minutes.
No. When I tell people that I have been touched by a ghost, I am referring to that darkness that debilitated me the moments before. The thing that didn't touch me physically, but touched some part of my psyche and hasn't let go completely. This absolute anguish that tapped my soul on the shoulder and showed me that there is, without a doubt, something else.
And the desperate hope that such dismal misery won't be my eventual something else.