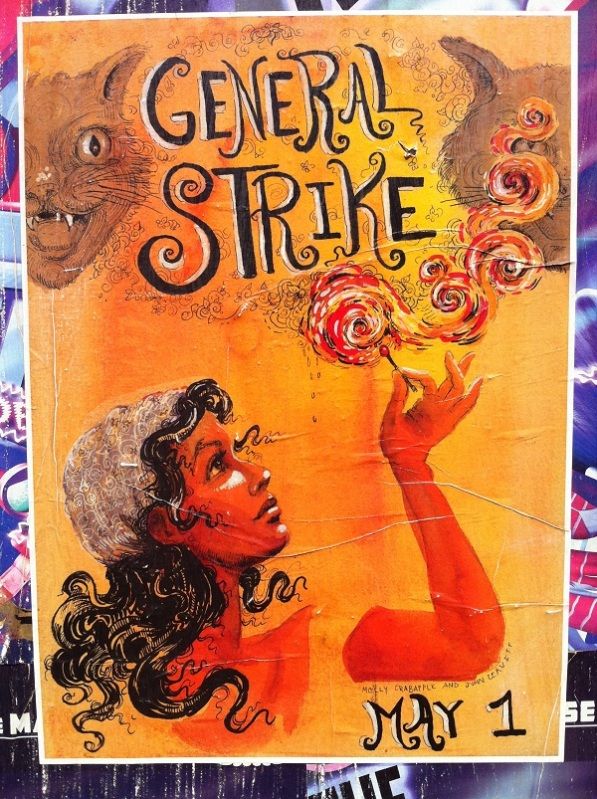 Today is the first day of May and
the Occupy Movement
is gearing up and organizing today to re-energize the nation into fighting for our democracy. Events are happening all over the Bay Area, as well as all over the country.
Many are walking out of their offices and classrooms today in order to disrupt the normal daily routine-- the idea is that if the workers (including unions and immigrant groups) all call out today, and don't use the bank or go shopping, the people at the top will be forced to recognize the power of the people.
I'm not calling out today because I can't afford to, and (if it helps) I work for a non-profit which really has nothing to do with the corruption of Wall street and Capitol Hill, but I do not plan on using the bank today, nor do I plan on buying anything. I'm going to join the festivities during my break and when I am done with my work for the day.
So much controversy swirls around this movement, perhaps for the reasons I have critiqued Occupy in the past: there are no real leaders who can act as a mouthpiece and give legitimacy to the group. Fringe outfits easily make their way into Occupy, because it is all-inclusive (with Republicans, Democrats, young, old, et cetera participating in the protests), and use the platform for their own agenda, whatever it may be. It's not right, and it's a big reason why Occupy has trouble getting traction with the people whose attention they seek.
Because there are so many different voices in the message, opponents will say that there is a "lack of a message." It's not true, because the basic premise is clear: we want to be represented in our government and we have a right to participate in our democracy, much more so than any non-living entity, such as a corporation-- yet as it stands now, the corporations are the ones with all of the representation in Congress, as their money gives them power to control policy makers.
THAT is the message, and the fact that some crazies just want to smash shit up really enrages me.
Gawker posted an article about
the NYPD raiding at least three homes of activists
in the city to interrogate them about May Day events and any other plans for the protests. From the article:
"Activist Zachary Dempster said that six NYPD officers broke down the door of his Bushwick, Brooklyn apartment at around 6:15am this morning. Dempster said they were armed with a warrant for the arrest of his roommate, musician Joe Crow Ryan, for a six-year-old open container violation. But Dempster believes this was an excuse to check in on him, as he'd been arrested in February at an Occupy Wall Street Party that was broken up by cops, and charged with assaulting a police office and inciting a riot."
Not okay. Why would this warrant a police raid?
On the flip side, there was some
nonsense that went down
last night at the Mission Police Station in San Francisco. A group of people dressed in black and armed with crow bars smashed windows at the police station and splashed paint on the property, before moving on to smash a bunch of windshields and the windows of nearby businesses.
What the hell? Whoever is doing this is only discrediting what we've been working to achieve. How does vandalism solve anything? It makes you look like an idiot. Or maybe that was the point-- to take validity away from this non-violent movement?
The
Occupy San Francisco website
wrote Monday night:
"The march in the Mission Monday night was not an OccupySF event.

OccupySF does not endorse this kind of destruction of the 99%'s property.

The individuals involved in this destruction are not known to OccupySF, and we believe they are outside provocateurs sent in to tarnish the image of Occupy prior to the May Day actions."
Exactly. Someone probably paid these hooligans to create this mayhem in order to draw attention away from the real issues. Sound familiar?