Newspaper vendor, Paddington, London (Photo credit: Wikipedia)
Fame whores.
The distinction between journalism and blogging.
The famous-for-being-hated phenomenon.
The risks of putting your life on public display (
"I'm on display, on display, on display..." *Melissa Gorga voice*
)
I will attempt to scratch the surface on these issues, as they've all been brought to the front of mind as a result of watching a Bravo reality series called
Miss Advised
.
The show follows around three single women-- all self described love or sex experts-- and their misadventures in dating men and finding love. The name says it all-- these women dispense dating advice as their day jobs, but are completely clueless when it comes to love and the opposite sex. Their track records are terrible, which just goes to show that just because you date a lot it doesn't necessarily mean that you're an authority on the subject. As stupid as it is, I can't stop watching it.
Two of the three women on the show have successful careers in their fields-- Amy Laurent of New York City is a reputable matchmaker, and Emily Morse of San Francisco is a "sexpert" who dispenses friendly, non-judgmental advice on her radio show,
Sex With Emily
. Emily is pursuing a doctorate in human sexuality, and is the only likable person on the show.
Julia Allison, the third woman on the show, is a self-proclaimed journalist (although she hasn't had a regular column in any publication for quite some time) who says she doesn't like writing and cries on camera when her editor gives her a week to write a few hundred words. Immediately, my mind was boggled by this woman. In another scene, a guy asks her if she's a blogger and she makes a face and quickly corrects him, saying something to the extent of "I'm a journalist. Ugh, I hate the term 'blogger.'"
Why hate on blogging? There are so many well-written blogs on a myriad of subjects on the internet, which is awesome because it means anyone from a dial-up connection to a smartphone can access it. One could be entertained for the rest of their life just by reading archived blog posts. The writing industry is extremely competitive-- especially today when we are watching
the slow death of the newspaper business
where free papers and papers you pay for, like
The Philadelphia Inquirer
and
The San Francisco Examiner
, are getting smaller and smaller in size and are having a difficult time retaining advertisers and employees-- and because we all can't find a job working at top-tier publishing houses, we're taking it to the blogosphere.
Journalism is a very respectable field, to be certain, but there are some bloggers who write on par with any major magazine. Blogging is the new medium for writers to get their work seen in a public arena and on an international level. A neighbor back in Philly wrote for the Philly Inky for years, and on my last visit home my dad informed me that he no longer had the column and is now writing a blog. Good for him, I said, he probably has more readers now.
So, Julia Allison, journalist-- really? And scoffing at bloggers? I had never heard of her before, and a quick google search of the name Julia Allison brought up a list consisting mostly of gossip site links to stories of her exploits, as well as links to a personal blog and a few social media links. Just because you once wrote a dating column does not make you a journalist. Journalists work hard, do research, grapple tough topics, and closely follow the news, they don't phone it in with a listicle of what kind of present to buy your boyfriend for Christmas.
To be honest, I had never heard of any of these ladies until I started watching the show, but it was instantly apparent that Laurent and Morse at least take their jobs seriously and are perhaps using the reality series as a platform to help their businesses.
Allison, on the other hand, has not written a dating column since 2009, has no business to speak of, and can't even seem to work on her
Elle
assignment (which came with the Bravo gig, apparently, as her pieces-- rehashes of her Bravo blog and online only on
Elle
's website-- only started appearing when the show debuted) without breaking down into a dramatic mess, and who has spent every episode I've seen bumbling around like a deranged loon, begging dudes to kiss her (yes, she really did that, multiple times, and it was super cringe-worthy every time), and seeking the advice (read: attention) of new age self-help shysters. It wasn't until Allison mentioned a "hate site" dedicated to her in the third episode that my interest was piqued (to be widely hated is strange to me, I need to know the source(s) of contempt).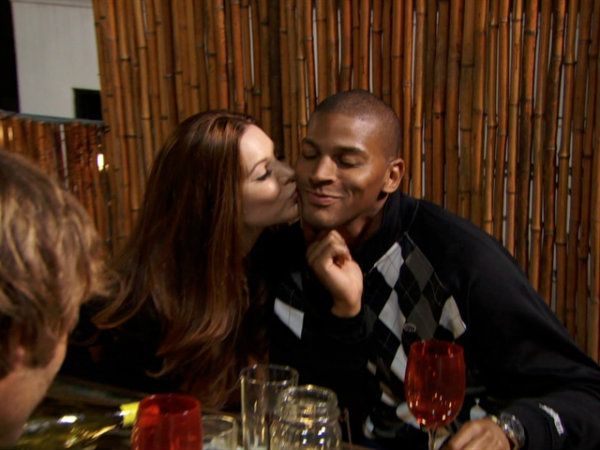 Allison, begs for a kiss during a game of "Spin the Bottle" (she's in her 30s) and only gets the cheek.
Image via Bravo.
After watching the episode about the alleged "hate" site, I did an online search, found the aforementioned website, which is actually a really hilarious snark blog called
Reblogging Donk
[Donk is the nickname for Allison, as she is a loudly braying ass-- don't believe me? just watch
Miss Advised
and tell me you disagree. It's on tonight, and I'm sure previous episodes are online somewhere, plus you could always peruse Reblogging Donk and get a better idea of what's going on behind those dead eyes], and did a little digging around. Okay, I read twelve posts and comment threads in a row and learned more than I ever needed to know about this Julia Allison person.
As someone who spends a good deal of time on the internet (reading articles, blogging, engaging others on social media, et cetera), the topic of internet-fame (as well as
the topic of being famous for not really doing anything/famous for being hated
) is incredibly fascinating, and incredibly frustrating, to me. Why do we worship these morons when there are so many intelligent people in the world actually doing something noteworthy??
Our culture has
a strange idolization fetish
.
For as many fan sites as there are on the internet dedicated to celebrities, there are just as many, if not more, snark sites. We're a snarky society, we must have always been.
Generally speaking, we love watching talentless hacks on television because seeing their buffoonery makes us feel better about the less than pleasant things we have to deal with in our own lives, while at the same time it gives us hope that we will someday strike it rich or attain a high level of success because, hey, if this idiot can do it, why can't we? It worked for Bethenny Frankel, a business-minded woman who went on a
Real Housewives
show for a few seasons and walked away with her own series, her own talk show, and a product line of nationally-sold alcoholic beverages.
Back to the "I'm not a blogger, I'm a journalist!" line-- what's funny about that lie is the fact that blogging is exactly how Julia Allison became "known," if you want to use that term.
Apparently, she had a series of semi-popular blogs four years ago (she calls them "lifecasts") in which she published: blurbs about her love life, special events she attended, and more trivial matters; photos of herself in various costumes; video diaries discussing mundane daily activities and silly, forced discussions (like the time she had an argument with then-boyfriend Jake Lodwick, Vimeo founder, about
why he finds her to be demanding
; and age-inappropriate lip-syncing videos of Disney songs. The blogs were the vehicle driving her "brand," which was fueled by fame-whoring and "star" fucking (sorry, mom, if you're reading).
Image via CrunchBase
To sum up Allison's life and career: She started out as the daughter of two well-off parents, is from Chicago originally but went to Georgetown for college where she wrote a sex "column" for the school's newspaper.
She wound up in New York City writing a column for a free newspaper where she seemingly made the goal of becoming Gawker-famous-- which she accomplished by showing up to a Gawker Halloween party in a revealing condom-covered corset.
To boost her fame, she rubbed elbows with "the right people," divulged details of her personal life in the form of anonymous tips to various gossip blogs, and pursued men like they were walking ATMs.
And she "lifecasted" all of it, and the ever hilarious RBD, which seems to be mostly comprised of people wronged by Allison in the past and who can't stand to see someone so lazy still getting work, exists to reblog her shameless self-promotion while simultaneously mocking her ridiculousness and pointing out her fallacies and hypocrisies.
Which brings me to the juicy nugget that I want to talk about: why live your life in the public sphere if you can't take the scrutiny? Why reach for popularity in the first place-- what is the benefit of splashing your personal life all over Page Six and the internetz? I do not understand fame-whoring or people who want to be known just for the sake of it-- what is the point? Being infamous is better than being nobody? Is it a self-esteem issue? Armchair psychologists and actual psychologists, please give me your take in the comments section.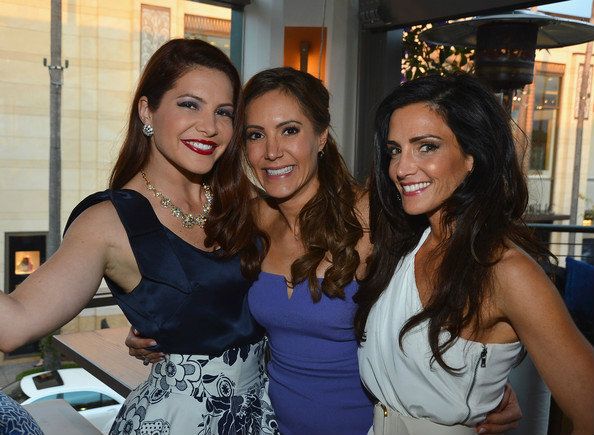 The Miss Advised cast, (from right): Julia Allison, Amy Laurent, Emily Morse.
People with talent (musicians, writers, artists, programmers, producers, et cetera) promote what they are doing so that they can increase their audience, who in turn will support the creative project. They self-promote to get more jobs, because they are very passionate about what they do, and (when you're broke) it's sometimes the only way to get your name out there. These people aren't seeking fame, they're seeking work-- the attention-seeking in instances like this is the means to an end, not the other way around.
Julia Allison, like most people who go on the reality shows that don't require a talent other than "having a personality" (who doesn't have a personality? everyone has one, good, bad, boring, or completely obnoxious), is seeking fame for the sake of fame, which is sad. She really has no discernible talent to speak of or to fall back on, besides being a writer who hates to write and a social media expert who buys her Twitter followers like Newt Gingrich.
I think she probably is a sad person who never received the attention she felt she deserved in life, and has been trying her hardest to make sure people notice her, even if we notice because she is acting like a maniacal fool. Famous for being hated, that is Julia Allison. Some people may relate to her, which is sad in its own way, but I think the majority of us watch her and shake our heads.
Why is this grown adult woman acting this way? Baby Jane, hello?
The difference between Julia Allison and someone like Kim Kardashian is that Kim has been damn successful in dragging out her pan-flash, turning her personal Twitter stream into an advertisement and assembling her family and love interests into reality TV co-stars for a semi-fictionalized lay-about soap opera (that a lot of people seem to watch). Kim is the ultimate fame-whore, but at least she's (well, her mom, really) playing the game right and capitalizing on it.
This JA lady, on the other hand, has burned nearly every professional and personal bridge she has ever crossed (too many instances to cite here,
please check with RBD
if you don't want to take my word), and her putting it all out there on the internet and in other media outlets isn't helping her case. Yet she still wants more fame, which is why she had the brilliant idea of exposing her insanity to an even greater national television audience. Not sure if that'll help her land a husband anytime soon either, which is what she says she wants.
Thanks to
Bravo's love of exposing nutcases to a national reality show viewing audience
(hi, Kelly Killoren Bensimon!), I am learning the priceless lesson of exactly what not to do to attain a level of name-recognition and success.
Fame used to be just the by-product of success, but these days, for some, it is the ultimate prize. Personally, I've never wanted to be famous (just making money and working on my dreams), nor have I ever wanted to expose too much about myself on here or anywhere else.
My private life is my business, and I blog not just because I want to make it as a writer one day, but also because it helps me sort out my ideas. When I started regularly updating my site, it was because I had the hopes of turning this page into something worth reading, to use the site to promote a literary zine and the projects of my creative friends, and to also help develop
my hip-hop music making hobby
.
Most people start a blog because they want to share their words with the hope that some people will read and be interested in what they're doing, but I suppose there are always going to be a few who will go to any length to get people to talk about them, and use blogging as a tool to get that end. What do you think?
I'm opening this up for discussion now. What do you think of the "famous for being hated" phenomenon, and do you think it speaks well of our society? Do we place more attention on people who behave outrageously but have no other recognizable talent than we do on those who are genuinely gifted?
You guys talk amongst yourselves, I'm going to get the Jiffy Pop started.