Today Rachelle is here with a guest post on an important topic. You may remember her from a guest post earlier this year, about how timing can be everything in life, and seizing the opportunity when inspiration hits. Please enjoy the post, and a big thank you to Rachelle for hanging out with us again on The Sez :)
What's scarier than Zombies stalking bargain hunters at the local mall?
Lawns!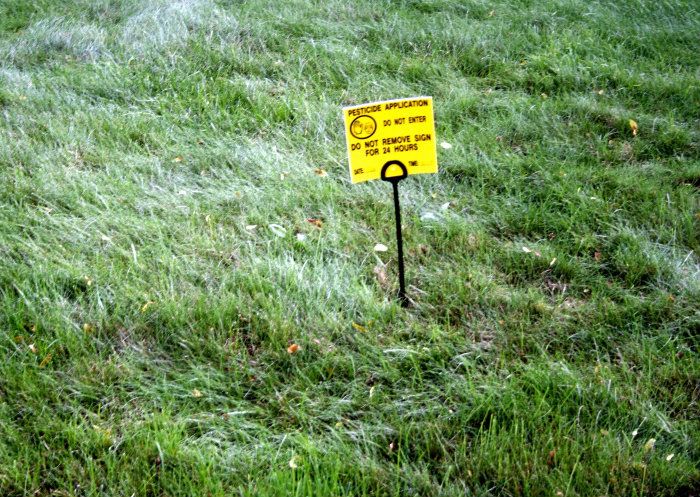 Lately, I've noticed quite a few little yellow flags popping up on local lawns and they're bugging me out. Have you seen them? You know... the cute lawn signs warning: "PESTICIDE APPLICATION. DO NOT ENTER. DO NOT REMOVE SIGN FOR 24 HOURS."
I'm not quite sure what I'm doing right but I'm not plagued by mass invasions of bugs in need of a chemical nuking even though I live in the same vicinity as my bug-phobic neighbors. I don't live in a heavily wooded rural section of the city so I don't know where these pesky bugs are hiding but I haven't seen them.
Before I address this issue in full, I have admit that I'm a little biased. I don't love insects and a good many of them creep me out but I'm the type of person who would rather scoot a fly out of my home than smash it to death. I also avoid using chemicals unless absolutely necessary.
I want to ask the yellow flag people if they've ever heard of birds. Birds feast on insects and they're chemical free. I'm much rather let the birds manage the insects. In my opinion, the chemicals used in pesticides are way too risky.
The Center for Disease Control (2004) reported, "In 2001, the Toxic Exposure Surveillance System (TESS), which tracks cases of poisoning reported to U.S. poison control centers identified 20,110 cases of acute pesticide poisonings in the general population."
The report also mentioned "Long-term exposure may be associated with neurologic diseases such as Parkinson's and Alzheimer's."
When I was a child, I remember seeing a lot more insects than I do today. I miss the caterpillars. I miss the ladybugs. I haven't seen a praying mantis in years. Now, that's a handsome insect!
Occasionally, I see a few gnats or a fly or two. I'm thrilled when I see a bee because we really need them. I'd much rather learn to live with a few insects than not see any at all.
If I didn't see any insects in my neighborhood, I would know that my environment isn't sustaining a healthy eco-system and that would really truly scare me. Do the yellow flag people realize that their lawn chemicals wash onto the sidewalks and into storm drains? They might have the right to pollute their own living space but they don't have the right to pollute mine.
Yellow flag people... it is time to raise the white flag and stop buggin' out.
A spider is the best pest control friend you can have. If a fly bothers you, swat it away. See? It's not difficult to control insects. People bother them as much as they bother us. If you've got a really bad infestation problem, there's a safer solution--natural pest control. There are dozens of natural remedies that effectively control insects without poisoning the environment.
If you've been using pesticides because you dream of a world where insects don't exist, don't expect to receive any sympathy from me-- I'm probably too busy wiping deadly pesticides off the bottom of my dog's paws.
Rachelle Nones is a photographer and freelance writer. You can view her photographs here.